Register your interest
Cyber security courses
Get the latest industry skills to launch an in-demand career in cyber security with TAFE Queensland. Our revised and updated cyber security qualification will be launching in early 2023. Registrations are now open to secure your spot in this specialised course.
Cyber security training
As cyber attacks become increasingly common, Australia and the wider world are currently experiencing a severe shortage of qualified cyber security professionals. A specialisation in cyber security will give you the technical skills you need to protect organisations against malicious cyber activity.
TAFE Queensland's cyber security training will give you the high-level technical skills you need to implement network security infrastructure and detect breaches in network security. You'll learn from industry experts with current experience in the IT field and have the option to customise your study journey with topics including basic network concepts and protocols, exposing website security vulnerabilities, and implementing network security infrastructure.
Career options
A qualification in cyber security can unlock a range of career options including: 
Cyber Security Support Officer
Information Systems Security Support Officer
Network Security Support Officer
Security Penetration Tester
Website Security Support Officer
TAFE Queensland learning environment
We offer a mixed mode delivery of cyber security training at 11 campus locations across the state:
Brisbane (Bracken Ridge, Mt Gravatt, South Bank, and Ipswich)
Gold Coast (Coomera)
Sunshine Coast (Mooloolaba)
Toowoomba
North Queensland (Cairns, Townsville, Mount Isa, and the Whitsundays)
Our Mooloolaba, Cairns and South Bank campuses feature specialised cyber security training operations centres with teachers across the state often coordinating collaborative experiences including hackathons for you to put your newfound skills into action.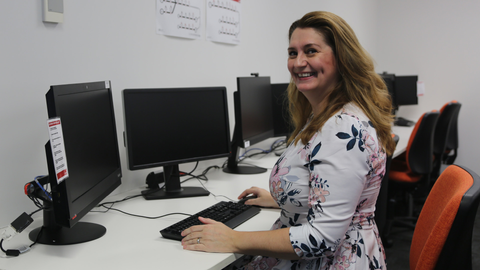 "Never have I been so excited to learn new things. I feel fortunate to go from feeling helpless to being the curious and determined girl in my class to now working in an industry that keeps me on my toes."