Certificate 3 Guarantee
The Certificate 3 Guarantee is a state government subsidy designed to help working-age Queenslanders get their first post-school certificate III qualification. 
Certificate 3 Guarantee explained
A certificate III is an industry-recognised qualification that can give you the skills you need to enter the job market, re-enter the workforce, or take the next step in your career. By reducing your upfront costs, the Certificate 3 Guarantee can allow you to get a post-school qualification for less and help increase your job prospects and future career potential.
TAFE Queensland is a Skills Assure supplier, approved by the Department of Employment, Small Business and Training to deliver Certificate 3 Guarantee subsidised courses to eligible Queenslanders. Our practical, hands-on approach to training will ensure you graduate job-ready with the skills employers are looking for.
How the Certificate 3 Guarantee can help you
Through the Certificate 3 Guarantee subsidy, the Queensland Government will contribute to the cost of your course, significantly reducing your out-of-pocket expenses. Eligible students will still be required to contribute to the cost of their training through a co-contribution fee. The amount you need to contribute will vary depending on your chosen course. For example, a higher subsidy will apply to vocational areas that have a skills shortage and align with economic and industry skills needs.
Students who hold a healthcare or pension concession card, or identify as Aboriginal and Torres Strait Islander, may be eligible for a higher subsidy amount.
Certificate 3 Guarantee eligibility
To be eligible for Certificate 3 Guarantee funding you must:
be a Queensland resident
be aged 15 years or over, and no longer at school (with the exception of VET in Schools students)
be an Australian or New Zealand citizen or Australian permanent resident (including humanitarian entrants), or a temporary resident with the necessary visa and work permits on the pathway to permanent residency
not hold, or be enrolled in, a certificate III level or higher qualification (not including qualifications completed at school and foundation skills training).
Please note: RPL study mode is available for Certificate III level programs only.
Certificate 3 Guarantee courses
There are a number of certificate III courses across a range of study areas that are eligible for Certificate 3 Guarantee funding.  Please refer to the table below:
How to apply for the Certificate 3 Guarantee
When you apply to study at TAFE Queensland our customer service staff will assess your eligibility for the Certificate 3 Guarantee, as well as any other funding options you may be eligible for. Once you've chosen your course, simply hit the APPLY NOW button on the relevant course page to get the process started.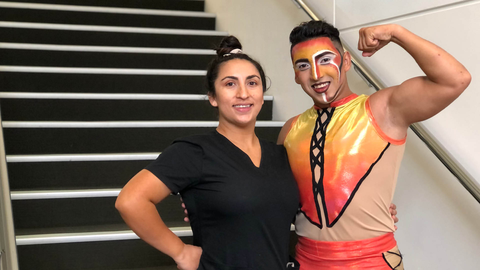 I am proud that I have a nationally-recognised qualification and hope to continue my studies onto the diploma and one day start my own business offering beauty services from home.