Why study a degree at TAFE Queensland
Our approach to learning and teaching is about making academic subjects applicable to the real world. Our courses focus on developing practical skills that are underpinned by theory and we make sure that everything you learn is relevant and usable.
Small, workshop-style classes give you the opportunity to better know your teachers and classmates. It also means that learning is tailored to your individual needs and goals. At TAFE Queensland your voice will always be heard; you will never just be a face in the crowd.
We have strong links with industry and offer courses that align with current industry needs. We keep up-to-date with emerging trends and advances in technology so our courses always remain ahead of the curve.
Top reasons to study with us
TAFE Queensland delivers contemporary degrees that give students the best of both worlds — the theoretical side of a university degree, with the applied-learning that makes our graduates so highly sought after. As well as offering our own boutique degrees, we've partnered with some of Australia's most respected universities to provide you with a range of hands-on bachelor qualifications. 
The best part about studying with TAFE Queensland was how hands-on it was. I wasn't just learning theory – I was out there doing it, playing live shows, and composing for real projects as part of my studies.
I chose TAFE Queensland initially because I wanted to progress my career and eventually get into my bachelor degree.
When I compare my work at the end of my diploma with what I'm producing now at the end of my degree it's amazing how much it's changed. I can see how much I've improved.
Diploma-to-degree pathways
Get two qualifications in the same time it usually takes to complete one with a dual award. A dual award combines the practical training of a TAFE diploma with the theoretical knowledge of a university degree. It allows you to steadily build your skills, confidence and knowledge as you take your first steps into industry.
Start working sooner
With a dual award you can start working in your industry sooner with a diploma qualification under your belt while your complete your bachelor studies. Leap frog your competition and pave the way for future success when you graduate.
Lock in your future
By choosing to enrol in a diploma-to-degree pathway you not only secure your spot in your diploma course, but you lock in a guaranteed place in your chosen degree at the same time. Once you successfully complete the diploma components of your dual award, you can transition straight into your degree without having to apply again.
The faster way to a degree
Your diploma usually counts as a full year of credit towards a three year university degree. That means you'll only have two years of your degree to go once you complete your diploma. You'll then graduate with both your diploma and your bachelor qualification.
Choose your preferred provider
You can complete a dual award entirely through TAFE Queensland, or by combining your TAFE diploma with a bachelor degree from one of our partner universities. We've partnered with a number of Australia's leading universities to offer you a seamless pathway to further study.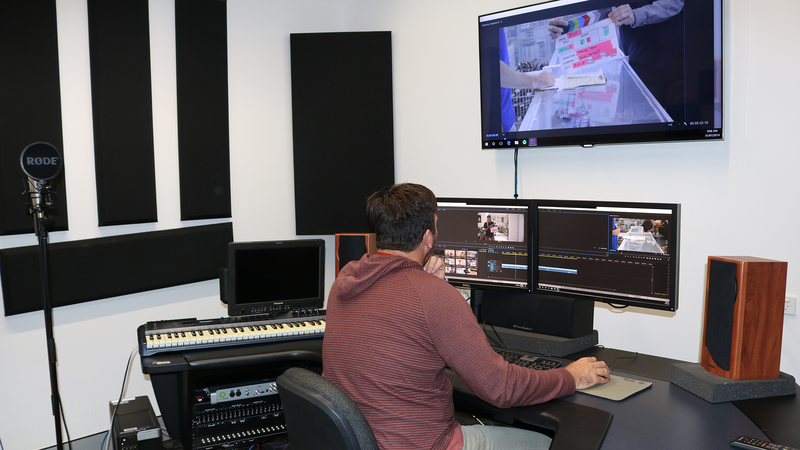 New students
If you're new to TAFE Queensland, you can apply for one of our dual awards or standalone degrees through the Queensland Tertiary Admissions Centre (QTAC). 
Simply search for your preferred course on the QTAC website, click the Apply Now button and follow the prompts. If you apply for a dual award, one application will cover your admin for both TAFE and uni. So you can sit back, put your feet up, and relax knowing the next few years are totally sorted.
Pro tip: if you're after a dual award, in the QTAC course search look out for the course with a diploma/bachelor name e.g. Diploma of Music Industry/Bachelor of Contemporary Music Practice.
Current students
If you're a current TAFE Queensland diploma student you're in luck. Successfully completing your diploma will automatically qualify you for a provisional place in a relevant TAFE Queensland degree. 
If you're ready to continue your studies with a hands-on degree, simply find the relevant course page for your chosen degree, click the Apply Now button and follow the prompts. Continue your application through the linked partner university portal and register your details on the form provided.
Pro tip: when looking for the right course, stick to the ones that are a straight up bachelor. Steer clear the diploma/bachelor courses — these are for people who haven't done the diploma yet.
Our accreditation and registration
Higher Education is regulated by the Commonwealth of Australia's Tertiary Education Quality Standards Agency (TEQSA) in accordance with the TEQSA Act 2011.

TAFE Queensland is a TEQSA registered Institute of Higher Education, registration number PRV13003, and all our higher education courses are accredited by TEQSA.
TAFE Queensland is an approved provider under the Commonwealth of Australia Higher Education Support Act 2003. This means our higher education courses attract Student Loans for Australian students. 
Commonwealth Register of Institutions and Courses for Overseas Students (CRICOS) is a register of Australian education providers that recruit, enrol and teach overseas students in Australia. Registration on CRICOS allows providers to offer courses to overseas students studying in Australia on student visas. Only approved institutes may offer courses to overseas or international students as per the Commonwealth of Australia Education Services for Overseas Students Act 2000 (ESOS).
TAFE Queensland is approved to deliver its higher education courses to international students in Australia on student visas. You can find our institution details and list of courses on the Australian Government's Department of Education & Training CRICOS register.
TAFE Queensland consults with industry associations to gain recognition of its higher education courses. Students and graduates should check with the relevant association for current information regarding membership, immunisations, and police checks and continuing professional education requirements.
Professional accreditation is current as follows:
Associate Degree in Civil Engineering: Engineers Australia is Australia's preeminent engineering body. This course is accredited by Engineers Australia at the Engineering Associate level. You can find our accreditation status in the Accredited Engineering Program Directory
Bachelor of Dental Prosthetics: The accreditation authority for the dental profession in Australia is the Australian Dental Council (ADC). The ADC accredits education and training programs enabling graduates to apply for registration as Dental Prosthetists. You can find our accreditation status in the Accredited Dental Practitioner Program Directory.