North Queensland
The North Queensland region spans from Ingham in the North to the Whitsundays in the south, and as far west as Mount Isa. It incorporates the regional centres of Townsville, Mackay, the shire of Burdekin, as well as smaller rural towns including Charters Towers, Bowen, and Normanton.
North Queensland Locations
A full range of study areas areas are offered in North Queensland including automotive, beauty and hairdressing, building and construction, business, child care, community services, electrotechnology and utilities, engineering, general education and training, horticulture, hospitality and cookery, information technology, nursing and health, tourism, resources and infrastructure, and visual arts.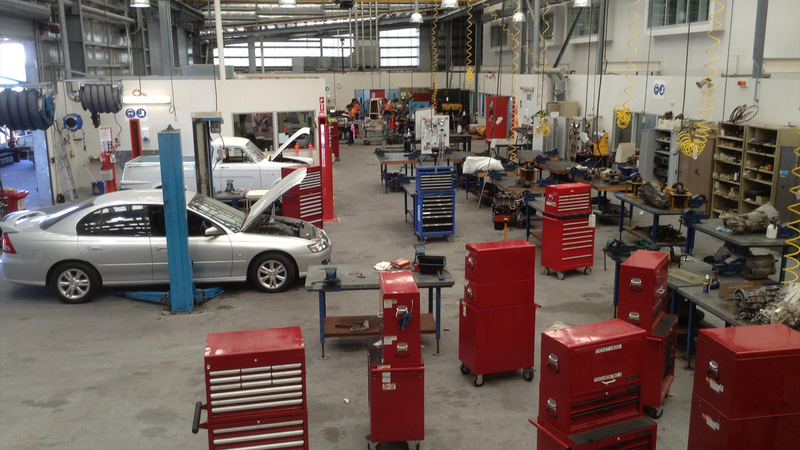 Townsville (Trade Training Centre Bohle) - Facility Showcase
The Townsville (Trade Training Centre Bohle) offers courses in a range of traditional trade areas including automotive, construction, electrotechnology, engineering, instrumentation, plumbing, and refrigeration. It also features a range of specialised facilities including a four storey plumbing tower, fully-fitted instrumentation laboratory, and state-of-the-art thermostatic mixing values (TMV) and backflow testing laboratory.
Automotive workshop
Our automotive students are trained using the latest in simulation technology. In our custom-built automotive training workshop you will develop the skills to perform a range of servicing operations on light and heavy vehicles within a mechanical service or repair business. Our state-of-the-art motor and wiring workshops will teach you how to store and care for components, parts, tools, test equipment, and support equipment, as well as how to effectively apply and operate electrical and electronic diagnostic test equipment. 
Plumbing facilities
Our plumbing facilities at the Townsville Trade Training Centre are cutting edge. Our plumbing apprentices gain hands-on experience training on our four storey plumbing tower, complete with solar deck. Our plumbing and gas laboratory provides specialised facilities for our gas fitting students where they can learn how to install gas piping systems, LPG systems, and gas pressure and control equipment. The centre also contains a state-of-the-art Thermostatic Mixing Values (TMV) and backflow testing laboratory where trade-qualified plumbers can study the basic hydraulics and mechanics relevant to water temperature control devices and their installation.