Reconciliation Action Plan
Our Reconciliation Action Plan (RAP) demonstrates our commitment to closing the gap to ensure our first Australians are afforded the same opportunities for learning and prosperity that everyone enjoys in Australia.
The plan
This plan outlines our commitments from 2021-2023, further developing and adding to the strategies from our inaugural RAP that was launched in 2018.
We are very proud to deliver this plan as we move forward to focus on embedding new strategies that promote our commitment to reconciliation. TAFE Queensland plays an important role in improving the quality of life for First Nations peoples. We are committed to progressing reconciliation and pledge our accountability through the activation of our second RAP.
We acknowledge that this plan is still only the start of our journey towards supporting reconciliation, healing and respect for all Australians and we will work tirelessly to ensure its success.
During the next two years, we are committed to developing, implementing and measuring our commitments:
Relationships including an engagement strategy to work closely and in partnership with First Nations communities to ensure our training is relevant and provides skills that will lead to genuine employment opportunities. 
Respect with the development of a Cultural Capability Framework that will embed learnings for staff and students; Intellectual Property Guiding Principles, a Cultural Protocols Guide and a staff award that recognises outstanding staff who have demonstrated a commitment to reconciliation.
Opportunities by finalising our employment and education strategies, reviewing our Procurement Policy and increasing scholarship opportunities.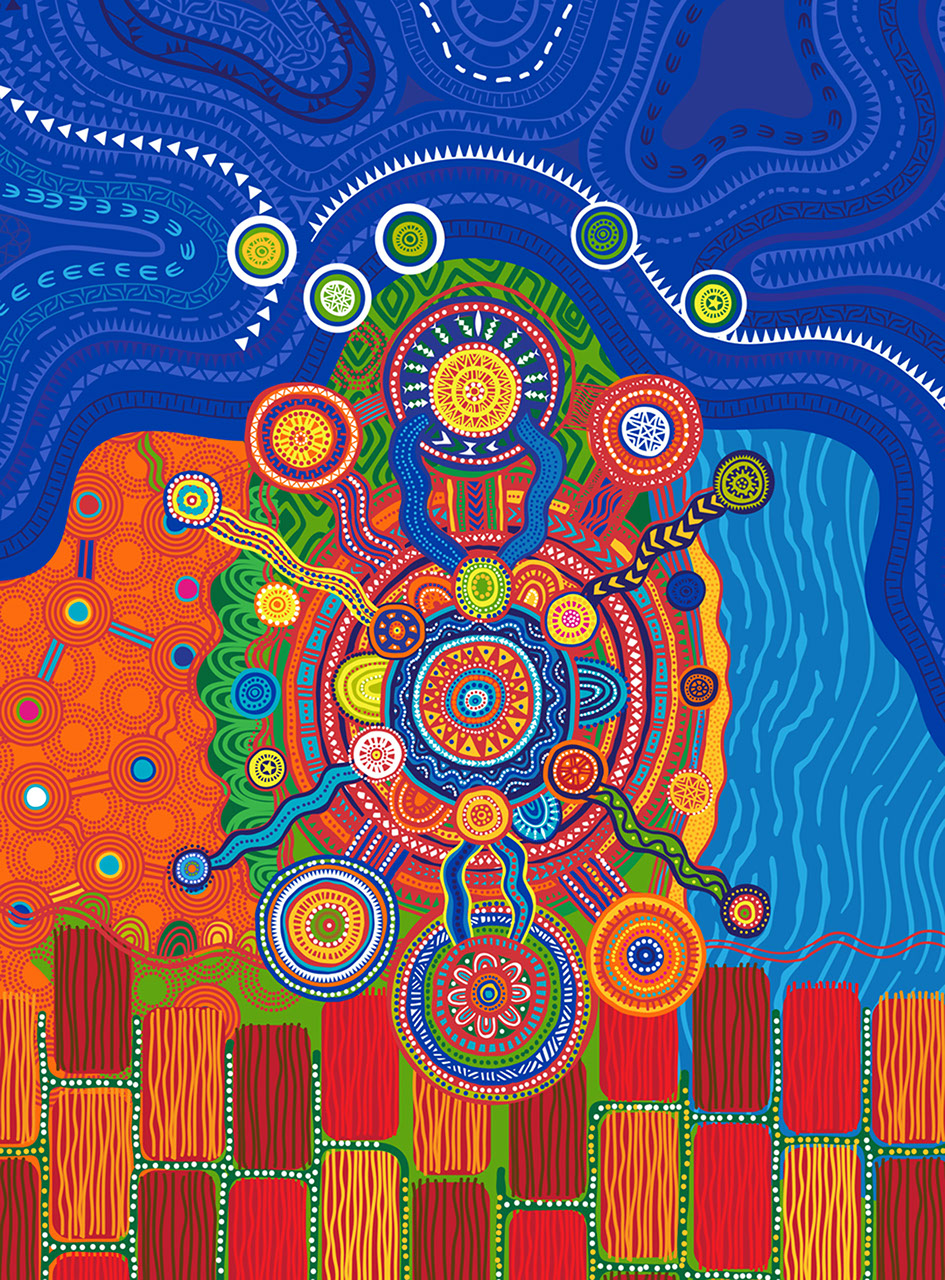 TAFE Queensland's Reconciliation Action Plan artwork by Riki Salam, We are 27 Creative.
Connecting Knowledge – Connecting Cultures
The TAFE Queensland Reconciliation Action Plan artwork "Connecting Knowledge – Connecting Cultures" is about bringing Aboriginal and Torres Strait Islander and non-Indigenous cultures, understandings and knowledges together. 

The artwork represents a map of Country (lands across TAFE Queensland) with TAFE at the centre. Pathways flow from different Country throughout Queensland connecting communities, connecting cultures, connecting knowledge. Freshwater and Saltwater blend together, bringing knowledge, wisdom and culture from all over, learning two ways. TAFE Queensland is represented by the central sun symbol, freshwater and saltwater surround this symbol bringing knowledge from the six regions represented by the six circles that form the "yarning circle". The "U" symbols represent people teaching, learning and assisting – staff, students and educators. 
Woven pattern designs represent the capturing of knowledge and learning, the essence of what TAFE Queensland provides for many people across many aspects from business to trade and various industries. 
The Torres Strait Islands are represented at the top of the artwork – five symbols representing the five island regions of the Torres Strait. Patterns and symbols moving downward on the artwork represent different Country throughout Queensland – rainforest, desert, coastal, freshwater and saltwater. The rectangular blocks represent urban locations and more populated regions. Clear pathways represent accessibility to TAFE Queensland for people from all over Queensland, from urban, regional, rural and remote locations.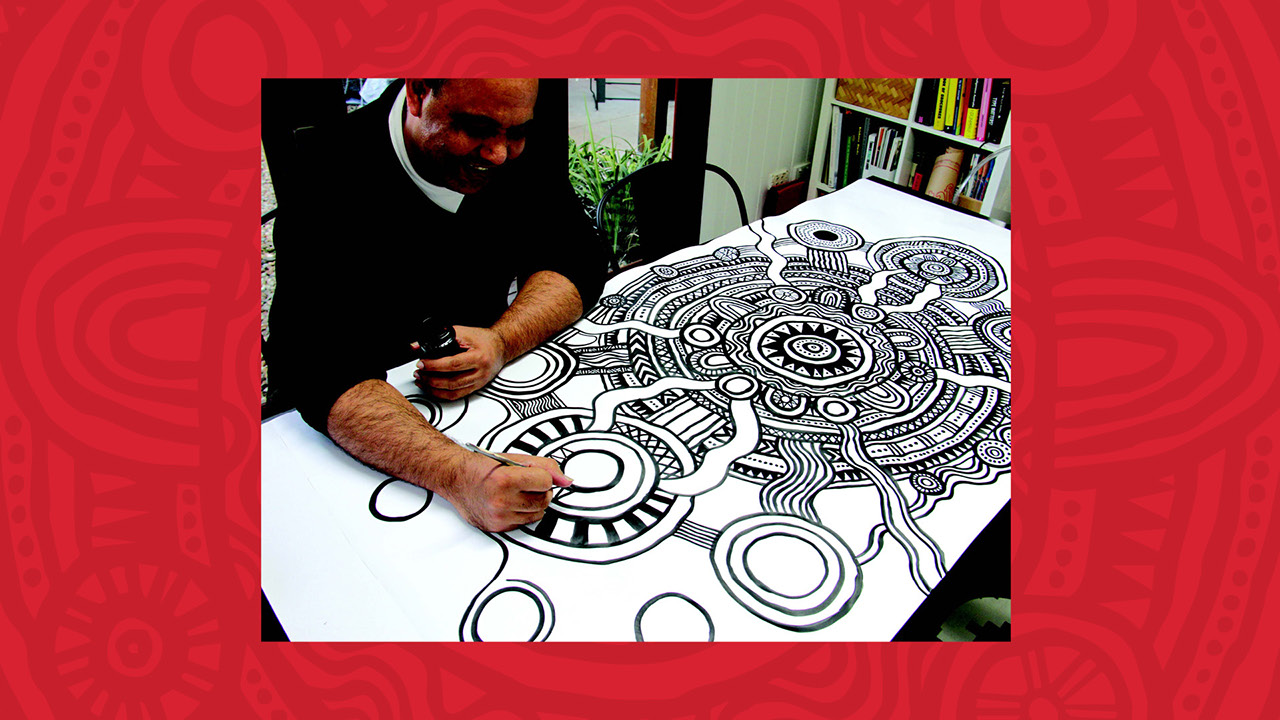 About the artist
Riki is a member of and connected to Kala Lagaw Ya – Western Island Groups (St Pauls – Moa Island), Kuku Yalanji Peoples and a member of the Ngai Tahu Peoples in the South Island of New Zealand. Educated in both Cairns and Brisbane, including studying at TAFE Queensland, Riki has more than 20 years of industry experience as an artist and graphic designer.

"It has been an honour to create Reconciliation Action Plan Artwork for TAFE Queensland. TAFE in Brisbane, at the old Morningside Campus is where I began my creative career 25 years ago. It is great to see so many Aboriginal and Torres Strait Islander peoples able to gain a career through TAFE".