ADULT MIGRANT ENGLISH PROGRAM
¿ES USTED ELIGIBLE?
Mejor Inglés
Mejor Vida
Clases de inglés gratuitas para recién llegados
Acerca del Programa de inglés para Adultos Migrantes (AMEP)
Estudia ingles práctico para vivir, trabajar y estudiar en Australia
Aprende como tener acceso a servicios del gobierno y comunitarios
Encuentra nuevos amigos que han llegado a vivir recientemente en Australia
Prepárate para trabajar o estudiar y planea tu futuro
Criterios de elegibilidad:
Si tienes visas Familiar, calificada, humanitaria, esposo/a o una visa aprobada temporalmente*.
No sabes hablar/leer/escribir en inglés o necesitas mejorar tu inglés.
Tienes 18 años o más. Jóvenes migrantes entre 15-17 años también podrían ser elegibles
*Por favor toma en cuenta que visas temporales aprobadas no incluyen visa de trabajo y de vacaciones, visa de trabajo en vacaciones o visa de turista.
Opciones de estudio flexible
Estudios de tiempo completo o medio tiempo en diferentes localidades en Queensland
Puedes ser apoyado por un tutor a domicilio si no puedes asistir a clases tiempo completo
Estudios en línea a través de clases a larga distancia
Que aprenderás en las clases?
Inscribirte en una clase de acuerdo a tu nivel de inglés
Recibirás apoyo de nuestro oficial de la comunidad y de un administrador de casos mientras estés estudiando
Aprende sobre el lenguaje, cultura y prácticas en un lugar de trabajo en Australia
Puedes tener acceso a ingles adicional si tienes una escolaridad limitada o algún problema que pueda impactar tu habilidad para aprender
Puedes tener acceso a guarderías gratis para tus hijos mientras estudias inglés(Es sujeto a elegibilidad)
Prepárate para una entrevista y escribe un Curriculum
 Haga su consulta acerca de nuestras clases de inglés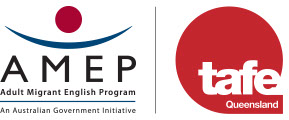 The AMEP is funded by the Australian Government Department of Home Affairs. In Queensland, the AMEP is delivered through TAFE Queensland.