ول برنامج الإنجليزية للمهاجرين البالغين
هل أنتم مؤهلون؟
لغة إنجليزية أفضل,حياة أفضل
دروس لغة إنجليزية مجانية للقادمين الجدد
حول برنامج الإنجليزية للمهاجرين البالغين (AMEP)
ادرسوا الإنجليزية العملية المستعملة في الحياة اليومية والعمل والدراسة في أستراليا.
تعلموا كيف تصلون إلى خدمات الدولة والمجتمع.
تعرفوا على أصدقاء جدد انتقلوا حديثًا إلى أستراليا.
حضّروا أنفسكم للعمل أو الدراسة وخططوا لمستقبلكم.
معايير الأهلية
بالتأشيرة.
لديكم تأشيرة عائلة، أو تأشيرة مهارة، أو تأشيرة إنسانية، أو تأشيرةزوجية أو تأشيرة مؤقتة مصدقة.*
لا يمكنكم تكلم/قراءة/ كتابة اللغة الإنجليزية أو أنتم بحاجة إلى تحسين لغتكم الإنجليزية.
عمركم أكثر من 18 عامًا. قد يتأهل بعض الشبان المهاجرين الذين تتراوح أعمارهم بين 15-17 عامًا.
*الرجاء ملاحظة أن التأشيرات الموافق عليها مؤقتًا لا تشمل تأشيرة العمل والعطلة، أو تأشيرة العطلة العاملة أو تأشيرة الزائر.
 Enquire now about our English lessons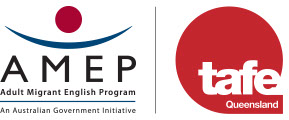 The AMEP is funded by the Australian Government Department of Home Affairs. In Queensland, the AMEP is delivered through TAFE Queensland.