ADULT MIGRANT ENGLISH PROGRAM
آیا واجد شرایط هستید؟
انگلیسی بهتر
زندگی بهتر
دروس انگلیسی رایگان برای تازه واردین
راجع به پروگرام انگلیسی مهاجرین کلانسال (AMEP)
دسترسی حاصل نمائید.
انگلیسی عملی را برای زندگی، کار و تحصیل در آسترالیا بخوانید.
طریقه دسترسی به خدمات دولتی و جامعه را بیاموزید.
با دوستان جدید که تازه وارد آسترالیا شده اند آشنا شوید.
برای کار یا تحصیل آماده شوید و زندگی آینده تانرا پلانگذاری کنید.
شرایط مستحق بودن
مکتوب ویزه تان راجستر کنی
دارنده یک ویزه خانواده، کارگرماهر، بشردوستانه، همسر یا مؤقت تائید شده باشید.*
انگلیسی را خوب صحبت/خوانده/نوشته کرده نتوانید یا ضرورت داشته باشید که انگلیسی تانرا تقویت کنید.
سن تان بالای 18 باشد. بعضی مهاجرین جوان بین سنین 15 الی 17 نیز ممکن است واجد شرایط باشند.
*لطفاً توجه نمائید که ویزه های مؤقت تائید شده شامل ویزه کار و تفریحی، ویزه رخصتی با کار یا ویزه توریستی نمی باشد.
گزینه های تحصیل انعطاف پذیر
بطور تمام وقت یا نیمه وقت در تمام نقاط کوینزلند تحصیل نمائید.
اگر نمی توانید بشکل تمام وقت تحصیل نمائید، از یک معلم خانگی داوطلب کمک دریافت کنید.
از طریق پروگرام تحصیل از راه دور بشکل آنلاین درس بخوانید.
در صنف چه چیز ها را خواهم آموخت؟
در یک صنف انگلیسی مناسب سویه تان ثبت نام کنید.
در زمان تحصیل توسط کارمندان رابط (Liaison Officers) جامعه و کیس منیجر AMEP تان مساعدت شوید.
راجع به لسان، فرهنگ و رسوم محل کار بیاموزید.
در صورت داشتن تحصیلات کم یا مشکلاتی که بالای توانایی آموزش تان تاثیر گذار باشد، تدریس لسان انگلیسی اضافی را بطور رایگان دریافت کنید.\
در زمان آموختن لسان انگلیسی (درصورت واجد شرایط بودن) به خدمات مواظبت اطفال رایگان دسترسی داشته باشید.
برای مصاحبه ها و نوشتن خلص سوانح تان آماده گی بگیرید.
 همین حالا راجع به صنوف انگلیسی پرسان کنید.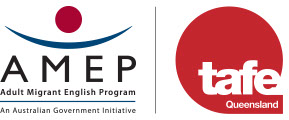 The AMEP is funded by the Australian Government Department of Home Affairs. In Queensland, the AMEP is delivered through TAFE Queensland.