ADULT MIGRANT ENGLISH PROGRAM
آیا شما واجد شرایط هستید؟
زبان انگلیسی بهتر
زندگی بهتر
دوره های زبان انگلیسی رایگان برای تازه واردین
درباره برنامه زبان انگلیسی برای مهاجرین بزرگسال
مطالعه عملی زبان انگلیسی برای زندگی، کار و تحصیل در استرالیا.
آگاهی از چگونگی دسترسی به خدمات اجتماعی و دولتی.
تعرفوا على أصدقاء جدد انتقلوا حديثًا إلى أستراليا.
پیدا کردن دوستان جدیدی که آنها هم به تازگی به استرالیا آمده اند.
معیارهای واجد شرایط بودن
دارنده ویزا از طریق همسر، ویزای بشردوستانه، ویزا از طریق مهارت، ویزای فامیلی یا ویزای موقت مورد تایید باشید.*
قادر به صحبت کردن/خواندن/نوشتن به زبان انگلیسی نباشید یا نیاز به تقویت زبان انگلیسی داشته باشید.
بیشتر از ۱۸ سال سن داشته باشید. برخی از جوانان مهاجر ۱۷-۱۵ ساله نیز ممکن است واجد شرایط باشند.
*لطفا توجه داشته باشید که ویزاهای موقت مورد تایید، شامل ویزای کاری و ویزای تعطیلات، ویزای کار و تعطیلات یا ویزای بازدید کننده نمی شود.
گزینه های تحصیلی قابل انعطاف
تحصیل بصورت تمام وقت یا پاره وقت در سراسر کوئینزلند.
اگر نتوانید در دوره های تمام وقت شرکت کنید از حمایت یک معلم سرخانه داوطلب برخوردار خواهید شد.
تحصیل آنلاین از طریق آموزش از راه دور.
در کلاس چه چیزهایی یاد خواهم گرفت؟
در یک کلاس متناسب با سطح زبان انگلیسی تان شرکت خواهید کرد.
در طول دوران تحصیل از حمایت کارمندان روابط اجتماعی ما و مدیر AMEP که مسئول پرونده شماست برخوردار خواهید بود.
در مورد محیط کار، زبان، فرهنگ و راه و روش زندگی در استرالیا آگاهی پیدا می کنید.
اگر سطح تحصیلات شما پایین باشد و یا هر مسئله دیگری وجود داشته باشد که بر توانایی شما در یادگیری تاثیر می گذارد به کلاسهای زبان انگلیسی اضافی دسترسی خواهید داشت.
در زمانی که مشغول تحصیل زبان انگلیسی هستید از خدمات رایگان نگهداری از کودک برخوردار خواهید بود (در صورت واجد شرایط بودن).
آمادگی برای انجام مصاحبه های شغلی و نوشتن رزومه.
 اکنون برای دوره های زبان انگلیسی ما درخواست ارسال کنید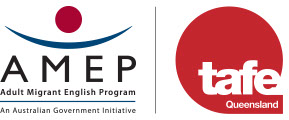 The AMEP is funded by the Australian Government Department of Home Affairs. In Queensland, the AMEP is delivered through TAFE Queensland.