ADULT MIGRANT ENGLISH PROGRAM
ÊTES-VOUS ADMISSIBLE?
Un anglais meilleur. Une vie meilleure.
Des leçons d'anglais gratuites pour les nouveaux venus.
À propos du Programme d'anglais pour immigrants adultes
Apprenez un anglais pratique vous permettant de vivre, travailler et étudier en Australie.
Découvrez comment avoir accès aux services administratifs et communautaires.
Faites-vous de nouveaux amis qui viennent eux aussi d'arriver en Australie.
Critères d'admissibilité
Vous avez un visa au titre de la famille, des compétences, d'une action humanitaire, de conjoint ou Visas temporaires*
Vous ne pouvez pas parler, lire ou écrire en anglais, ou bien vous avez besoin d'améliorer votre anglais.
Vous avez plus de 18 ans. Certains jeunes immigrants de 15 à 17 ans sont également admissibles.
*Veuillez noter que le visa de séjour et travail, le visa de travail-vacances et le visa de visiteur ne figurent pas parmi les visas temporaires approuvés.
Options flexibles d'études
Étudiez à plein temps ou à temps partiel dans divers endroits dans le Queensland.
Bénéficiez chez vous de leçons particulières d'un professeur volontaire si vous ne pouvez pas suivre à plein temps.
Étudiez en ligne grâce à la formation à distance.
Que vais-je apprendre dans ces cours?
Inscrivez-vous à un cours convenant à votre niveau d'anglais.
Bénéficiez de l'assistance de nos agents de liaison communautaire et de votre gestionnaire de cas de l'AMEP tout au long de vos études.
Découvrez la langue, la culture et les usages du monde professionnel australien.
Accédez à des cours d'anglais supplémentaires si votre formation est restreinte ou si des problèmes vous gênent dans votre apprentissage.
Profitez d'une garderie gratuite pendant vos leçons d'anglais (en fonction de votre admissibilité).
Préparez-vous pour des entretiens et apprenez à rédiger un curriculum vitæ.
 Informez-vous dès maintenant sur nos leçons d'anglais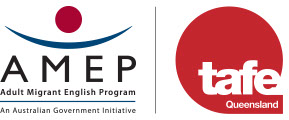 The AMEP is funded by the Australian Government Department of Home Affairs. In Queensland, the AMEP is delivered through TAFE Queensland.