ADULT MIGRANT ENGLISH PROGRAM
VOCÊ SE QUALIFICA?
Um Inglês melhor
Uma vida melhor
Aulas de Inglês de graça para recém chegados
Sobre o Programa de Inglês para Imigrantes Adultos
Estude o inglês cotidiano para viver, trabalhar e estudar na Austrália.
Aprenda a acessar serviços governamentais e comunitários.
Faça novos amigos recém chegados à Austrália.
Critérios de Eligibilidade
Você tem um visto de família, de trabalho qualificado, humanitário, de cônjuge ou um visto temporário aprovado.*
Você não fala/lê/escreve em inglês ou precisa melhorar seu inglês.
Você é maior de 18 anos. Alguns jovens com idade entre 15 e 17 anos também poderão ter direito.
*Favor observar que os vistos temporários aprovados não incluem o visto de trabalho e férias, o visto de férias de trabalho ou os vistos de turista.
Opções de estudo flexíveis
Estude em período integral ou parcial em diversos locais em Queensland.
Receba o apoio de um professor particular em casa se você não puder frequentar o curso em período integral.
Estude online através do ensino à distância.
O que aprenderei nas aulas?
Estude numa classe adequada ao seu nível de inglês.
Receba o apoio dos nossos Agentes de Vínculo Comunitário e do seu Gerente de Casos AMEP, enquanto você estuda.
Aprenda sobre a língua, cultura e práticas do local de trabalho australiano.
Receba aulas de inglês adicionais se você tiver baixa escolaridade, ou problemas de aprendizado.
Utilize o serviço gratuito de creche enquanto você estuda (sujeito à elegibilidade).
Prepare-se para entrevistas e escreva o seu currículo.
 Informe-se aqui sobre as nossas aulas de inglês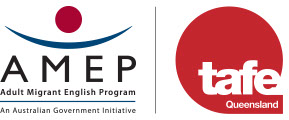 The AMEP is funded by the Australian Government Department of Home Affairs. In Queensland, the AMEP is delivered through TAFE Queensland.