ADULT MIGRANT ENGLISH PROGRAM
TUÑÍ LAAYEK NÉ?
Beétor Ingilíc
Beétor Zindigi
Noya foóñsóya ókkol ólla maana Ingilíc sóbok ókkol
Baalek Híjoroti Ingilíc forugram or baabote
Australíat táka, hamgorá arde fonná forá'lla amóli Ingilíc fonná cíko.
Hókumot arde cómaji hédmot ókkol kengóri estemal goré cíkoó.
Noya dustó ókkol bano zará Australíat éhon bodoli aiccé.
Ham ollá toiyar ói táko yá fonná foró ar plan goró tuáñr mustakbal ollá.
Laayeki magás (mafoni)
Tuáñrtu fémli, mahéri, insániyoti, bou-zamai yá monzuri diya tooitta víza uggwá asé.*
Tuñí Ingilíc hotá/forá/leká gorí no faró yá tuáñr Ingilíc torki goríbélla lager.
Tuñí 18 bosór ór uore óiyo. Kessú 15-17 bosóijja híjoroti hoissa fuain ó laayek óitfare.
*Meérbanigorí nuth goróde monzuri diya tooitta víza ókkol ót máze ham arde cútkir víza, hamgoréde cútkir víza yá ziyarot or víza ókkol cámil nái.
Larazadé fonná forár ektiyar ókkol
Fura thaim yá adá-thaim fonná foró Queensland ór zaga ókkol ót.
Hémayot goráza uggwá volóntiyar góror masthor or torfóttu zodi tuñí fura thaim uçí nofaró.
Onláin fonná cíko, duróttu cíka torika loi
Aññí kláss ót ki cíkkoum?
Kláss uggwá juáin goró zibát tuáñr tobkar Ingilíc lói munaséf ó.
Hémayot goráza añárar Cómaji Raabeta Ofísar ókkol ór torfóttu ar tuáñr Keis Menéjar torfóttu zecómot tuñí fonná cíko.
Australíar hamor zagar zuban, solasol arde pretís gorá ókkol ór baabote cíkoó.
Ingilíc thucin aró estemal goró zodi tuáñrtu fonná hom tákede ó yá mockil ókkol asé ziyán é tuáñr cíkar kaabeliyoti ré asór goré
Maana fuain dekbal estemal goró zecómot tuñí Ingilíc foró (ofuzutto óile)
Intarbyu ókkol ólla toiyar goró ar résumé uggwá lekó.
 Añárar Ingilíc kláss ókkol ór baabote ehón enkuari goró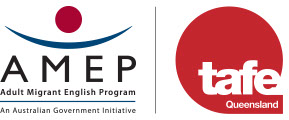 The AMEP is funded by the Australian Government Department of Home Affairs. In Queensland, the AMEP is delivered through TAFE Queensland.