ADULT MIGRANT ENGLISH PROGRAM
ИМЕЕТЕ ЛИ ВЫ ПРАВО?
Лучший английский
Лучшая жизнь
Бесплатные уроки английского языка для недавно приехавших
О программе английского языка для взрослых иммигрантов.
Изучайте практический английский для жизни, работы и учебы в Австралии.
Узнайте, как получить доступ к государственным и общественным службам.
Завести новых друзей, которые только что переехали в Австралию.
Приготовьтесь к работе или учебе и планируйте свое будущее.
Право на участие, критерии
У вас есть семейная, квалифицированная, гуманитарная, супружеская или утвержденная временная виза.*
Вы не можете говорить / читать / писать по-английски или вам нужно улучшить свой английский.
Вы достигли возраста 18 лет. Некоторые молодые люди-мигранты в возрасте 15-17 лет также могут иметь право на участие.
*Обратите внимание, что утвержденные временные визы не включают рабочую визу, туристическую визу и рабочую туристическую визу или гостевые визы.
Гибкие варианты обучения
Учиться на дневном или заочном отделениях в Квинсленде.
Учиться на дому, если вы не может посещать дневные классы.
Учиться онлайн через дистанционное обучение.
Что я буду изучать в классе?
Вступите в класс, подходящий для вашего уровня английского языка.
Будуте поддерживать связь с нашим общественным сотрудником и вашим AMEP Куратором (Case Manager) во время учебы.
Узнаете о австралийском языке на рабочем месте, культуру и практике.
Получите дополнительное обучение, если вы получили ограниченное образование или существуют проблемы, которые влияют на вашу способность учиться.
Получите доступ к бесплатному уходу за детьми во время изучения английского языка (при условии, если вы имеете на это право).
Подготовитесь к интервью и напишите резюме.
 Спросите прямо сейчас о наших уроках английского языка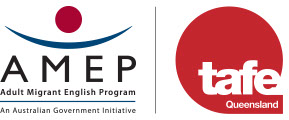 The AMEP is funded by the Australian Government Department of Home Affairs. In Queensland, the AMEP is delivered through TAFE Queensland.