ADULT MIGRANT ENGLISH PROGRAM
XAQ MA U LEEDAHAY?
Ingiriisi Wacan
Nolol Wacan
Casharada Ingiriisiga oo lacag la'aan ah ee soo-galootiga cusub
Wax ku saabsan Barnaamijka Ingiriisiga Soo-galootiga Dadka Waaweyn
Baro Ingiriisiga camaliga ah ee nolosha, shaqada iyo daraasadda Australia
Baro sida loo helo adeegyada dowladda iyo kuwa bulshada
Samee saaxiibo cusub kuwaas oo dhawaan yimid Australia
U-diyaargarow shaqo ama daraasad qorshaysana mustaqbalkaaga
Shuruudaha Ogolaanshaha
Waxaad haysataa fiisada qoyska, xirfadda, banii-adamnimada, xaaska ama fiisada ku-meel-gaarka la-ogolaaday.*
Inaadan ingiriisiga ku hadli karin/aqrin Karin/qori Karin ama u baahan tahay inaad kor-u-qaado Ingiriisigaaga.
Inaad jirto da' ka weyn 18 sano. Dhalinyarada soo-galootiga qaarkood oo da'doodu u dhaxayso 15-17 xaq bay u leeyihiin.
*Fadlan la soco in fiisooyinka ku-meelgaarka ee la-ogolaaday inaysan ku jirin fiisada shaqada iyo fasaxa, fiisada fasaxa shaqada ama fiisooyinka booqashada.
Dariiqooyinka daraasadda ee kala-duwan
Ka baro waqti-buuxa ma awaqti-dhiman goobaha ku yaal Queensland.
Hel inuu ku taageero baraha guriga oo folanteeri ah haddii aadan iman karin waqti-buuxa.
Ka baro online adoo raacaya waxbarashada aqoon-dirsadka.
Maxaan ka baran doonaa fasalka?
Ka mid noqo fasalka ku habboon heerka Ingiriisigaaga.
Haku taageereen saraakiisha Xiriirka Bulshadeena iyo Maamulaha Kayskaaga AMEP intaad waxbaranayso.
Wax ka baro luqadda, dhaqanka iyo falalka goobta-shaqada Australia.
Waxaad heli kartaa waxbarash luqada (ingiriiisiga) hadii ay ku haysato arrimo xadidaya waxbarshadaada ama awoodaada wabarasho.
Waxaaad heli kartaa xanaano ilmood oo lacag la'aan ahmarkaad baranaysid Ingiriisiga (waxay ku xiran tahay ogolaansho-helid)
U diyaar garaw insu'aalo lagula yeeshi iyo inaad qorato Resume.
 Wax ka weydii casharadeena Ingiriiska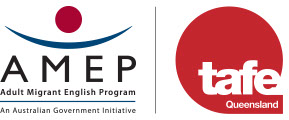 The AMEP is funded by the Australian Government Department of Home Affairs. In Queensland, the AMEP is delivered through TAFE Queensland.