Dental
There is expected to be strong growth in the oral healthcare industry over the next five years due to the ageing population and the increasing number of consumers with private health insurance extras cover.
Study dental
TAFE Queensland offers courses in dental assisting, dental technology, and dental prosthetics. Dental assistants work alongside dentists and assist with dental radiography, oral healthcare procedures, and sterilising equipment. Dental technicians construct models and custom impression trays, build removable acrylic dentures and alloy frames, and make crown and bridge structures. Dental prostheticians provide complete and partial dentures, dental appliances, and mouth guards to the public.
TAFE Queensland has a great reputation for providing practical and industry-focused training. As a TAFE Queensland dental student you'll study in our fully equipped, state-of-the-art dental clinic and get experience from industry placements. Graduating diploma students will also be eligible for provisional registration with the Dental Technicians and Dental Prosthetics Board of Queensland.

Career outcomes
Dental assistant
Dental technician
Dental prosthetist
Senior dental assistant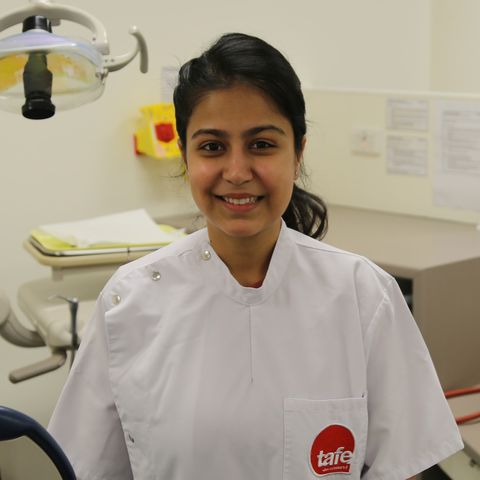 Working in oral health gives me immense happiness. Every day I get to meet new people, use my skills to help them and then get to see them leave surgery happy; it fills me with great pride.