Laboratory science
TAFE Queensland offers a range of courses in laboratory science including sampling and measurement, laboratory technology and techniques, and pathology collection and assistance. There is a strong need for sample collection and laboratory skills across a variety of industries including mining, food manufacturing, construction, and pharmaceutical production.
Study laboratory science
In our sampling and laboratory technology courses you'll learn how to collect and prepare samples, carry out experiments, analyse data, and report results. Our pathology courses will teach you how to perform venous and capillary blood collections, receive, prepare and dispatch specimens, and perform basic tests.
Our laboratory science courses will equip you for a diverse range of career pathways including positions as a pathology collector or assistant, laboratory assistant or officer specialising in food, water, or pathology, technical assistant working in construction, environmental, or manufacturing testing, or a sampler in the mining, food, or pharmaceutical industries.
Career outcomes
Air quality sampler
Calibration officer
Food laboratory assistant
Pathology assistant
Pathology collector
Quarry aggregates sampler
Technical assistant
Water testing laboratory assistant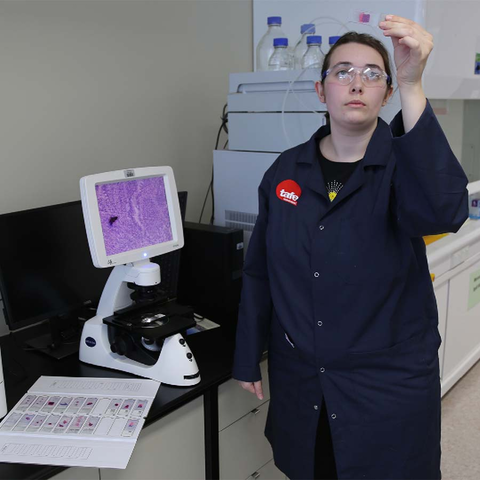 TAFE Queensland is a smart investment in your future. It's helped me to achieve my goal of working within a laboratory and has given me the skills to do so confidently and competently.
Laboratory science facilities
Find out more about the facilities you'll have access to as a laboratory science student at TAFE Queensland including our fully equipped science and medical laboratories. You'll learn from highly-qualified teaching staff — many of them having previously completed a PhD in their field.