Microsoft 365
Information on how to set up and access Microsoft 365 (formerly Office 365) as a TAFE Queensland student.
Microsoft 365 for students
All enrolled TAFE Queensland students are issued a TAFE Queensland-provided email address (ending in @tqstudent.edu.au) and access to Microsoft 365 apps & services.
Microsoft 365 (formerly Office 365)

To help enable students to study, all TAFE Queensland students will have access to the Microsoft 365 suite. This includes access to:
Mail, Calendar, Tasks - A @tqstudent.edu.au mailbox that can store up to 50GB of messages, access to a personal calendar, and a task list app.
Cloud Storage - Up to 1TB of personal cloud storage via OneDrive.
Office for Desktop* - Access to the Office suite of desktop apps for Windows or Mac (Outlook, Word, PowerPoint, & Excel)
Office on the web - Access to Office apps on the web (Word on the web, PowerPoint on the web, Excel on the web)
Office mobile apps - Access to use the mobile apps for Office (available for iOS, iPadOS and Android).
Other Microsoft 365 tools – Whiteboard for ideas and collaboration, Sway for creating interactive reports, OneNote for capturing and organizing your thoughts, and lots more.
*Excludes students studying micro-credential or non-accredited short courses.
Microsoft 365 apps at a glance

You can use these apps to plan, schedule your time, take study notes, create materials, complete assessments, store files, and much more. 
Microsoft 365 Set up and FAQ
Please note the following steps are also outlined in the video embedded below these FAQ. 
The first step to getting started is signing into your new account. To begin you'll need:
Access to an internet connection
Access to a modern web browser (Chrome, Microsoft Edge, Firefox, or Safari)
Your TAFE Queensland student number and password -- this is provided to you at enrolment.
Before you begin, make sure that you've activated your student account and created a password.
Sign in steps
Open a new window or tab in your web browser of choice.
Go to tafeqld.edu.au/office.
Sign in with your TAFE Queensland student number@tqstudent.edu.au. For example, if your student number is 412345678, then you will sign in with 412345678@tqstudent.edu.au and the password you set up. Then click on Log in to continue.
You're in!
Tip: To make it easier to get back next time, consider setting tafeqld.edu.au/office as a bookmark in your browser.
You will receive a unique email address (ending in @tqstudent.edu.au) for the duration of your study at TAFE Queensland. You can find your address by logging in to Microsoft 365 and clicking on your profile dropdown in the top right corner.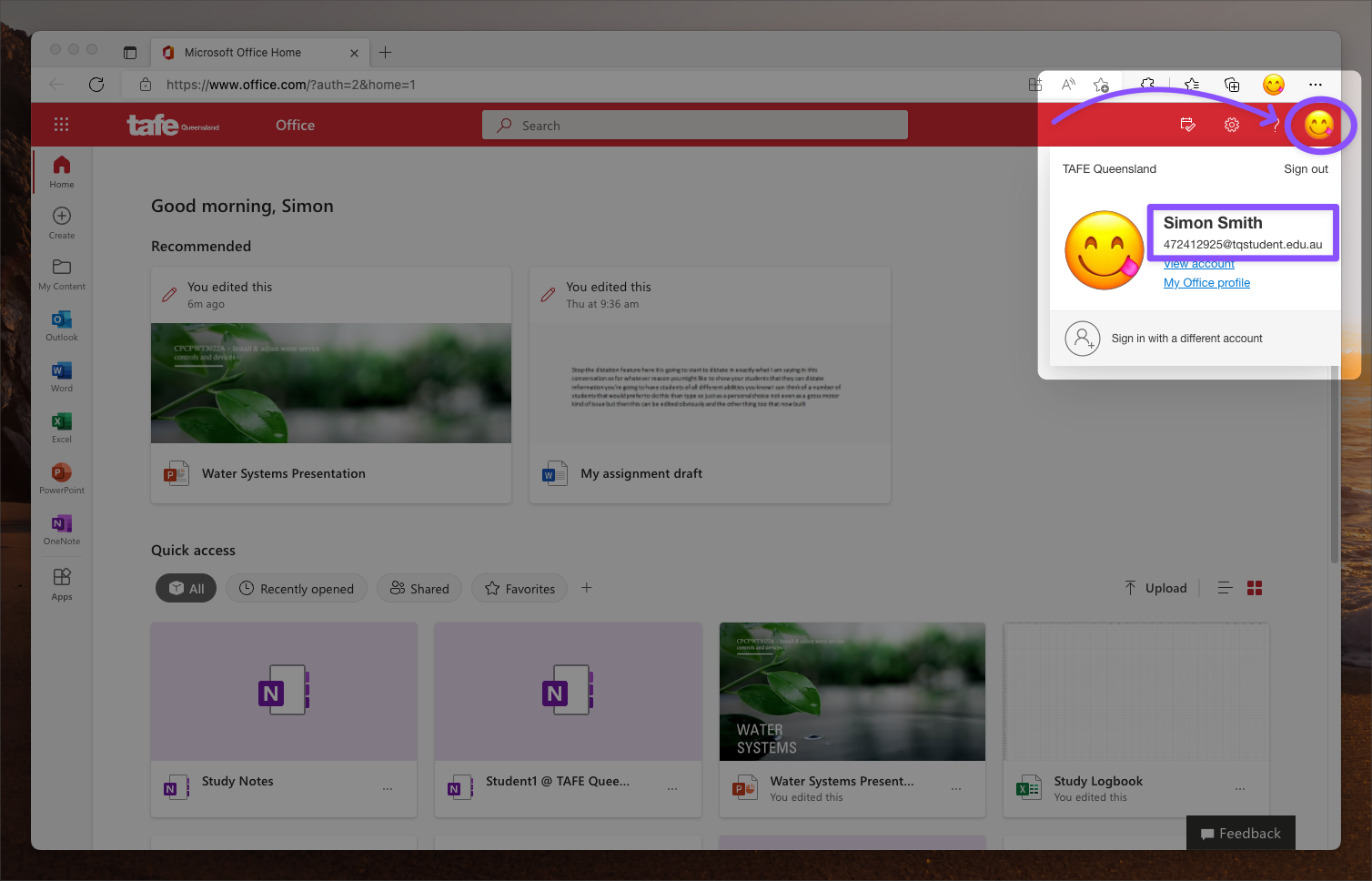 You can also use this @tqstudent.edu.au email address to log in to any Microsoft-related product or service (e.g., using the Outlook app on your phone, or installing Microsoft 365 on your computer).
You can choose to share this email address with other students or your teacher in order to communicate. You can also use it to redeem student offers or discounts with a wide variety of retailers.
TAFE Queensland will continue to use the email address that you provided at time of enrolment to communicate important information to you. 
Currently, we advise that you don't replace your personal contact email address in the Student Portal with your TAFE Queensland-provided email address. Doing this may prevent you from updating or resetting your student password yourself.
After signing in, you'll see a list of apps that are available to you as a student on the sidebar.
Note: you'll have access to all the apps in Microsoft 365, but you may not need to use all of them as part of your study!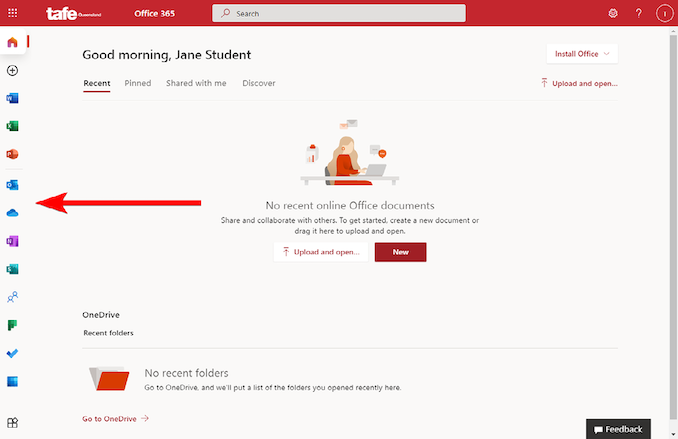 Your apps at a glance
You can also freely install the Office desktop apps* on your own desktop computer. To begin the process, click the Install Office button in the corner.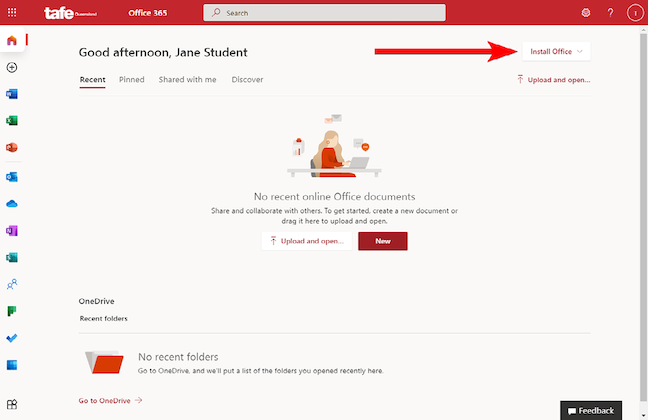 *Excludes students studying micro-credential or non-accredited short courses.
Note: For support for with Office apps on your own personal devices, please contact Microsoft Support. TAFE Queensland cannot offer installation advice or support for Office on personal devices.
Microsoft 365 apps work great on your smartphone or tablet too! Check out the following mobile apps for getting to email, calendar, tasks, files and more.
Depending on what course you're studying, you will either be provided with access to:
BOTH the Microsoft 365 desktop apps and the web apps (e.g. certificates, diplomas)
ONLY the Microsoft 365 web apps (e.g. short courses)
You'll be able to activate your TAFE Queensland-provided Microsoft 365 account 14 days prior to the start date of your first unit of study.