Ten-year partnership with an infinite regional focus
TAFE Queensland and NRG Services join forces to bridge the skills gap in regional Queensland

NRG Services    
Since 2012 NRG Services has been providing extensive trade services and facilities maintenance solutions to the construction, government, civil, mining and energy industries. Located in Toowoomba with offices in Brisbane and Roma their span is wide, their knowledge is modern and comprehensive, and their approach is fully flexible.
Opportunity
NRG Services has been using TAFE Queensland to train its apprentices via block training for ten years. Through open communication with TAFE Queensland's business development team, it was noted that finding regional-based, site-ready qualified staff for various roles was incredibly challenging.
Solution
A workforce development strategy has been put together by way of a senior school feeder qualification — the Certificate II in Electrotechnology (Career Start) (UEE22011).
Ten students from Toowoomba Grammar School and St Mary's College are undertaking the TAFE Queensland and NRG partnership program. These students will graduate with formal industry skills and the personal skills required to embark on their careers with NRG Services. Most essentially, they will have the mandatory site experience expected of all NRG Services employees.
Results
The current and continuing structured apprentice training TAFE Queensland provides gives NRG Services a skilled workforce. High job satisfaction, retention and client service have been observed and welcomed.

The workforce development program began in February 2022, with Toowoomba Grammar School and St Mary's students confirmed as the first cohorts. Program benefits to the students include:
A formal qualification - Certificate II in Electrotechnology (Career Start) (UEE22011)
Enterprise and non-technical skills such as networking, relationship-building, communication and digital literacy
Awareness of their strengths and opportunities for development
Opportunity to add relevant work experience with NRG Services to their resume, along with written feedback confirming their existing skills and experience on the worksite, to be used as a reference
Future plans
"Our plan is to continue to partner with TAFE Queensland and, using open communication, partner for initiatives to bridge the skills gaps in our region," said Tim O'Neill, Operations Manager, NRG Services.
"We will continue to rely on TAFE Queensland to:
determine what information or training our employees require to be effective in their roles
evaluate what skills employees have and which gaps need to be addressed
help by identifying possible funding sources
develop workforce development initiatives such as the Certificate II in Electrotechnology (Career Start) (UEE22011) to help narrow the skills gap and future-proof our workforce."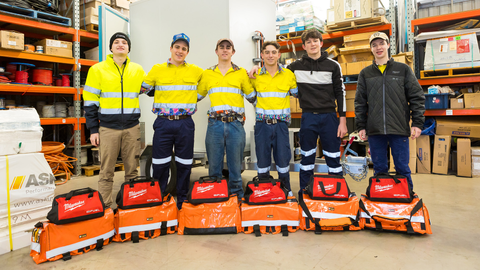 One of the many reasons the training partnership works is that we're regional people dealing with TAFE Queensland regional people. They have a natural understanding of what our areas and our people need to excel