Supporting Communities by Training Supporters
TAFE Queensland and WorkAbility Train NDIS Workforce
Overview
TAFE Queensland and WorkAbility Qld have a strong partnership, beginning in 2019 when TAFE Queensland co-designed and delivered several funded projects and pilot initiatives, to strengthen the workforce and development of Queensland's disability and community services industry.
Projects include two researched and responsively designed and developed micro-credentials, for the National Disability Insurance Scheme (NDIS) workforce.
The NDIS Workforce Fundamentals is a micro-credential for workers who support people who access the NDIS. This course was developed on behalf of WorkAbility Qld in partnership with TAFE Queensland and has been co-designed in collaboration with an Advisory Group of NDIS providers, and people with lived experience of disability.
The pilot was funded by Queensland's Department of Employment, Small Business and Training (DESBT). The course aims to reduce duplication in induction training for both the NDIS workforce and NDIS providers. It delivers critical elements considered important when inducting new workers; it is portable across industry and reduces costs for organisations through shared resourcing and recognition of learner outcomes, through the obtainment of a digital badge.
The Queensland Alliance for Mental Health (QAMH) completed the Community Mental Health Workforce Project in July 2021. This state-wide project was designed to build an understanding of the community mental health and wellbeing workforce needs in Queensland. One of the findings of this project included the identification of skills and knowledge gaps in the sector.
Workforce knowledge and skills gaps were identified in the areas of:
Mental illness
Recovery practice
Professional Boundaries
NDIS psychosocial supports
Trauma Informed Care
This information was used to develop the Navigating the NDIS for the Psychosocial Workforce micro-credential.

About WorkAbility
WorkAbility Qld (a consortium) was funded in 2019 and works in collaboration with industry employers and key government agencies. It is funded by DESBT, across several projects, to grow and develop a strong and sustainable NDIS workforce in Queensland.
Opportunity
WorkAbility approached TAFE Queensland for initial discussions around the development and delivery of the NDIS Workforce Fundamentals micro-credential, as, at the time, both were on an advisory group of another micro-credential pilot that was achieving significant results. 
Disability support workers play a vital role in ensuring the quality-of-life outcomes for people with lived experience. Supporting

people achieving their goals is a privilege and an important role, thus a new micro-credential was developed to achieve this.
The NDIS Workforce Fundamentals micro-credential focuses on understanding this role and the importance of working within industry-standard professional frameworks, maintaining privacy, confidentiality, duty of care and dignity of risk, and introduces high-intensity personal support and positive behaviour support, and developing skills in professional reflective practice.
Once this project was successfully completed, this led to a new project, Navigating the NDIS for the Psychosocial Workforce. This micro-credential aims to address current priority industry skills needed by developing a flexible quality training for the NDIS psychosocial personnel, and the wider community mental health workforce.
Solution
TAFE Queensland, in conjunction with QAMH and WorkAbility QLD, convened a Project Advisory Committee (PAC) to assist with developing the structure and content for the micro-credentials. The purpose of the PAC was to provide advice, guidance and expertise to support the successful completion of the project.
TAFE Queensland used a team of curriculum specialists, content writers, and subject matter experts to develop teaching content that was then professionally presented on an online learning management system.
Pilot programs were then successfully run to enable wider industry consultation and feedback. Both micro-credentials are available on the new delivery platform at TAFE Queensland.
Results
TAFE Queensland and Workability QLD have achieved the following outcomes and look forward to more enrolments and supporting learning in the industry in the future:
The NDIS Workforce Fundamentals micro-credential has received strong support from the industry, and 259 enrolments to date.
The Navigating the NDIS for the Psychosocial Workforce micro-credential pilot had 143 enrolments and 92 completions, with positive feedback from participants.
Both micro-credentials have been migrated to the new TAFE Queensland Course Gateway system as of September.
Future plans
WorkAbility and TAFE Queensland have achieved impactful results and will continue to work together on community services training and industry-wide learning initiatives.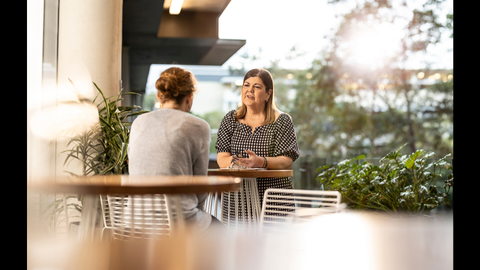 Fundamental to the provision of effective services in mental health and wellbeing is an understanding of the recovery capacity of service users. Psychosocial disability can be complex, but it is not without hope for improvement in quality of life. When staff providing services embrace this positive potential through shared ambition to achieve goals, they can restore trust and belief in individuals and their relationships. This (Navigating the NDIS for the Psychosocial Workforce) micro-credential provides a foundation for engaging in such work.