A taste of Colombia
If comfort food is your thing, you must try this frijolada recipe which is a popular dish in Colombia.
If you're after delicious and quick to prepare meals, then International cookery and hospitality management student Leidy Maldonado Ramirez recommends using recipes with canned beans.
"Canned beans are inexpensive and a great source of protein, vitamins and minerals. They're also gluten free and dairy free and are suitable for vegetarians and vegans," Leidy said.
A Destination Australia Scholarship recipient, Leidy wants to give you a taste of her homeland and is sharing her traditional Colombian dish of braised red kidneys beans, flavoured with tomatoes soffrito and fresh bay leaves, served with roasted pork leg, steamed garlic rice and avocado.
"For me, this plate means love, fun, happiness and the possibility to share with loved ones, because that's what usually happens when we are around the table."
This frijolada recipe can be alerted for vegans and vegetarians and makes 10 serves.
Frijolada ingredients:
Red kidney beans, 2 cans (420g each)
Tomatoes 1 can (420g)
Green peas 1 can (420g)
Garlics gloves 2 (5g) mince
Red onion 100 g brunoise
Fresh bay leaf 1
Olive oil 8ml
Coriander chopped and as a garnish 10 g
Salt and pepper
Avocado 2 as an accompaniment
Roast pork ingredients (remove for a vegetarian or vegan dish)
Pork leg 1kg
Vegetable oil 10 ml
Salt 8 g
Garlic powder 5g
Italian herbs 5g
Bay leave 2
Coriander seeds 3g
Cumin 3g
Lime 1 (as a garnish)
Steamed garlic rice ingredients
Long grain rice 350 g
Garlic gloves minced 5g
Olive oil 10ml
Salt to seasoning
Frijolada method
In a medium-high heat pot, add the oil and when it is hot add the onion and garlic until golden brown.
Add the tomatoes and bay leaf and let it cook for 5 minutes.
Then add the red kidney beans with the liquid of one can, mix all the ingredients and reduce the heat to low. To help infuse the flavours, season with salt and pepper, cover with lid and let it cook for 30 minutes.
Wash the green peas and add to the red kidney bean mixture and cook for other 5 minutes.
Add the chopped coriander, taste and correct seasoning as desired.
For a vegetarian or vegan frijolada, skip ahead to the steamed garlic rice method.
Roast pork method
Preheat the oven 200°C
Using paper towel, pat dry the pork.
Using a sharp knife, deeply score the rind and fat of the pork, taking care not to cut through the meat and season the pork skin with salt.
Add salt, garlic powder and Italian herbs to the meat, taking care not to add any to the skin, because it can burn and spoil the appearance.
Place the pork leg on a wire rack and into a deep roasting pan. To bring flavour and a rich smell to the pork, add bay leaf, coriander seeds, cumin, water, wine or broth to the pan, ensuring the liquid doesn't touch the meat.
Place the pork into the preheated 200°C oven for 40 minutes. Do not open the oven door during this period.
After this time, remove the pork from the oven and cover the meat with foil to prevent it from drying. Place the pork back into the oven and increase the temperature to 230°C. Rotate the pork every 10-15 minutes to ensure the meat cooks evenly.
Remove the pork from the oven and allow the meat to rest in the roasting pan for 10-15 minutes prior to slicing and serve with a slice of lime.
Steamed garlic rice method
Wash the rice twice.
Over medium heat, add oil to a pot and once hot add the garlic and cook until golden brown.
Add the rice to the pot and mix together.
Then add 600 ml of water and let the rice cook until the water is absorbed.
Reduce the heat to low and cover with a lid.
After 20 minutes, fluff the rice and remove from the stove.
Plating instruction
In a bowl add a scoop of frijolada (red kidney beans) and garnish with the coriander leaves. On a plate serve sliced pork with a slice of lime along with rice and avocado.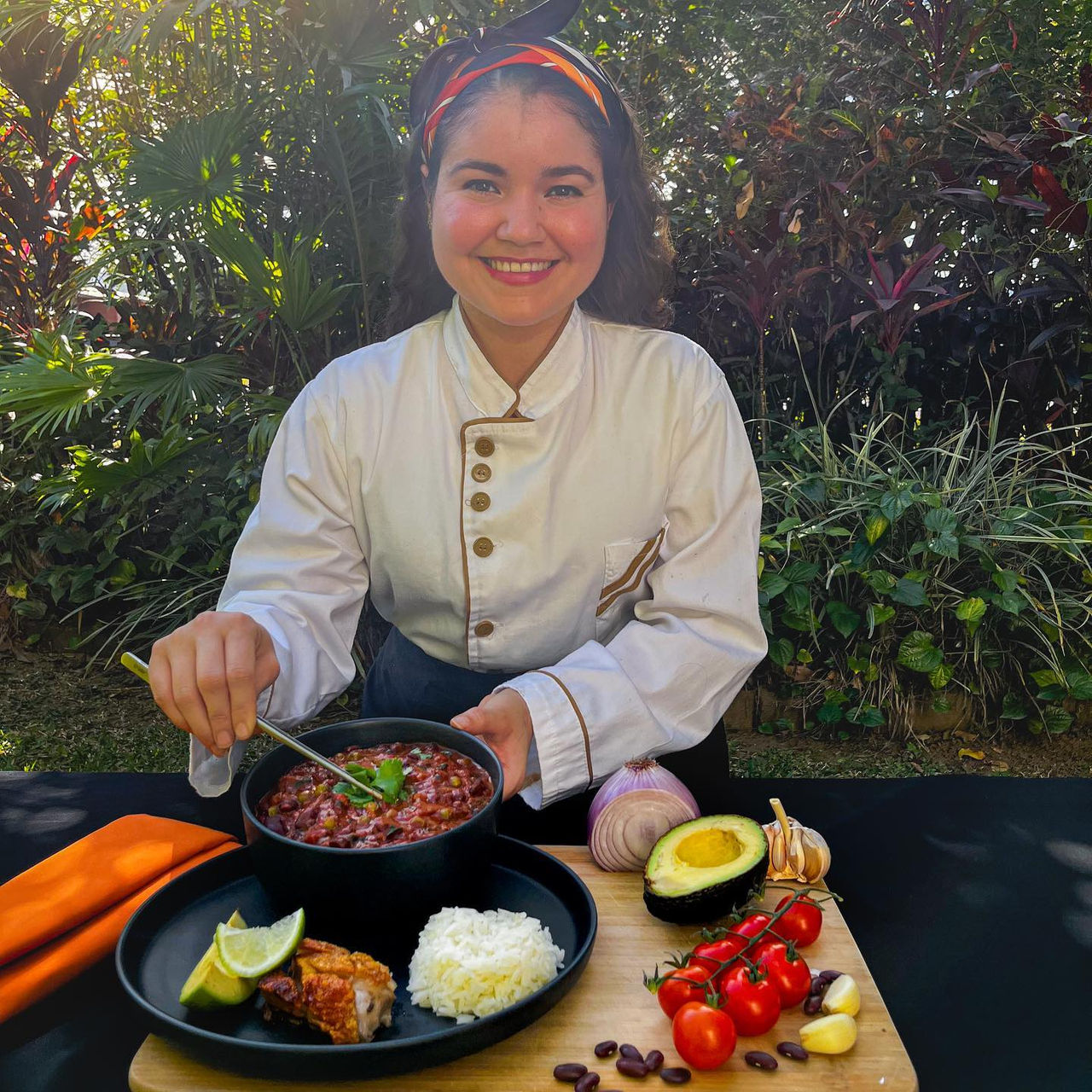 Leidy Maldanado with frijolada