Caravan industry workers flock to TAFE Queensland apprenticeships
TAFE Queensland has reached 100 active students in its recreational vehicle apprenticeships after a year of teaching.
TAFE Queensland became the first training provider in Queensland to introduce courses catering to the recreational vehicle industry in August of 2021. These courses include the Certificate III in Recreational Vehicle Service and Repair (MSM31015) and Certificate III in Recreational Vehicle Manufacturing (MSM31115) which are both delivered at a new, purpose-built facility at the TAFE Queensland Acacia Ridge campus.
The courses have been readily embraced by local businesses in the industry, with 100 students currently enrolled in the courses at TAFE Queensland. This is in addition to almost 120 who have already received their qualifications in the last year.
With Recognition of Prior Learning (RPL) capacity built into the courses, experienced workers can enrol and just learn the skills they're not already proficient in. The RPL system is how 119 students have received qualifications in one year that would usually take three to four years.
The global pandemic has seen interest in caravanning and use of recreational vehicles skyrocket in Australia since 2020, and TAFE Queensland is providing much needed training for the manufacturing and servicing sectors which have struggled to maintain quality levels.
CEO of the Caravan Industry Association of Australia, Stuart Lamont, last year called the caravan manufacturing sector "the largest remaining bastion of automotive manufacturing in Australia", going on to say that 2021 saw the highest Australian-made production rates in 30 years.
The caravan industry has struggled to maintain quality standards in previous years for both local and imported products as reported by Caravan World, Australia's longest-running caravan magazine, who said consumers had been demanding higher quality and compliance standards for years.
TAFE Queensland is uniquely placed to service the recreational vehicle industry due to its ability to train the wide range of skills needed for servicing and manufacturing these vehicles to the highest quality.
Stephen Gates, Director of Commercial Services at TAFE Queensland - SkillsTech, explained that students benefit from TAFE Queensland's usage of specialised teaching staff and equipment for each unit.
"The skills needed for the recreational vehicle industry are made up of many different trades. The great thing here at TAFE Queensland is the breadth of our training and scope of our facilities," Mr Gates said.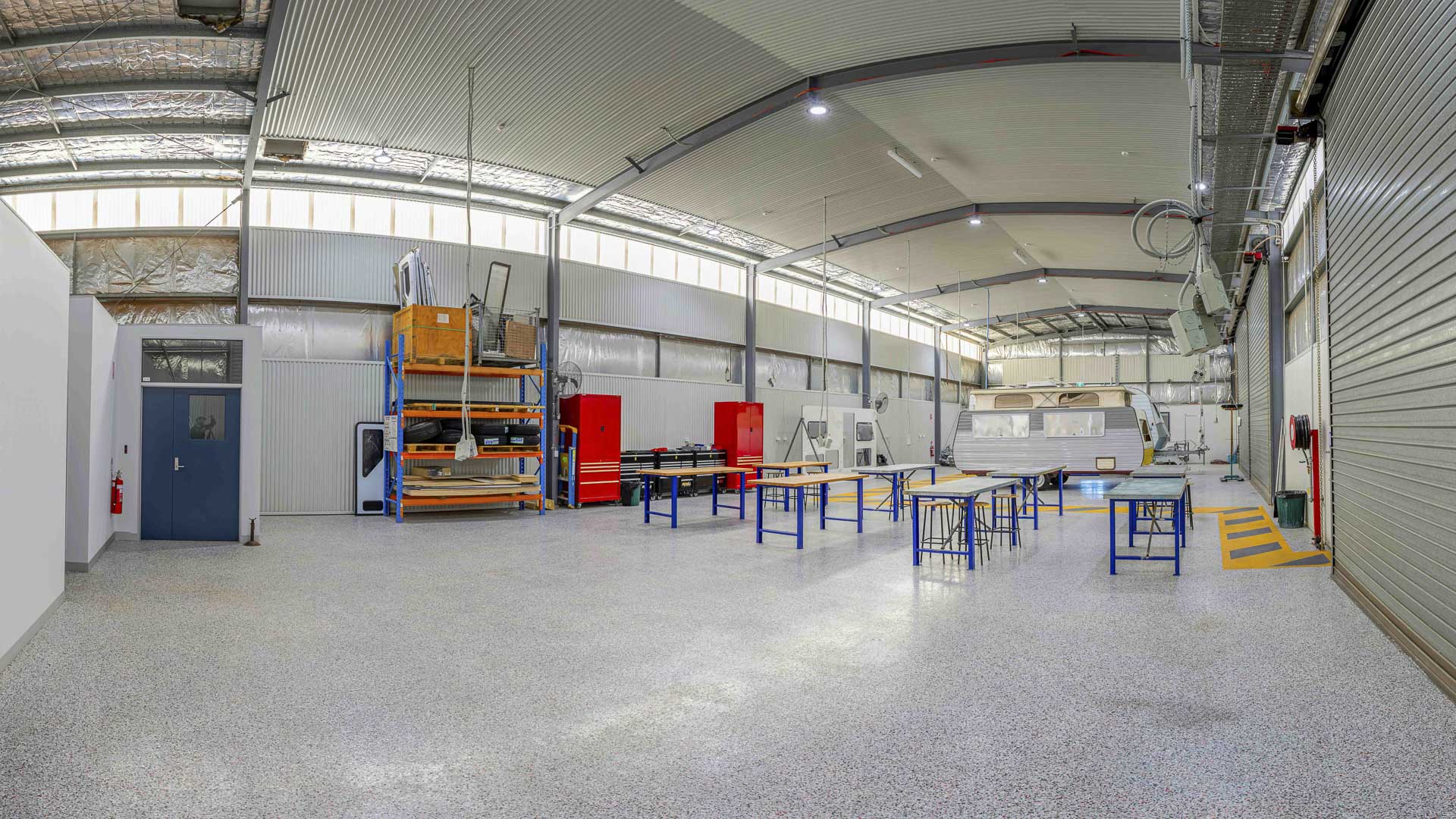 This is coupled with educators who are truly experts in their industry sector, "when these students are learning specialist welding for example, they not only have the recreational vehicle facility to learn in, they can access our $35 million engineering building and learn on real welders with expert teachers from the welding industry," he continued.
TAFE Queensland has introduced these courses at just the right time, with tighter quality control laws to come into effect on June 30 2023. These regulations are part of the Road Vehicles Standards Act (RVSA) and are intended to crack down on low-quality and dangerous vehicles.
The local caravan industry is in full support of TAFE Queensland's new courses, with Queensland industry giants Caravanning Queensland and recreational vehicle insurance specialists CIL Insurance both donating to the new facilities and courses.
Located at the Acacia Ridge campus, the all new Caravan Industry Training facility was opened in August 2021 by the Minister for Employment and Small Business and Minister for Training and Skills Development, Di Farmer.
CIL Insurance donated two complete caravans to the facility for students to put their newly acquired skills into practice. Business Development Manger at CIL Insurance, Matt O'connor, said CIL were happy to assist quality training for the industry it insures.
"We're proud to donate these caravans because we know that future apprentices will be well trained and well established into repairing them. It's good for the industry and it's good for the community, we fully support it and we're more than proud to be part of it."
Caravanning Queensland General Manager, Jason Plant, was equally excited about the introduction of the new courses, having played a major role in their inception.
"We are so excited that this is at the stage that it is, where we're getting to the point where we can deliver these courses and move forward with this fantastic initiative," Jason said at the facility opening.
The addition of these courses and their immediate success are key indicators of TAFE Queensland's strong and long-held connections to industry and its ability to adapt to what industries need now and for the future.