Beauty students frightening skills
At TAFE Queensland, beauty students typically learn how to make people look beautiful, but now they're transforming everyday faces into skin-crawling characters at Movie World's Fright Nights.
With brushes in hand, using special effect make-up techniques, these Diploma of Beauty Therapy (SHB50121 | 111236A) students are on a mission to create decomposing superheroes, deranged clowns and zombies; and they're loving every eerie moment of it.
Taking on the challenge for a second time is 25-year-old, Jenna Johnson who was offered a paid position to join the talented team at Movie World's Fright Nights this year.
"It's incredible to return as a paid makeup artist and continue to learn from highly skilled industry professionals while also being able to inject my own creative ideas," said Jenna.
"Being back-of-house is such a buzz as we get to witness and be part of the transformation of actors into terrifying creatures. I'm learning how to craft realistic boils and fake blood while maintaining a speed to get through hundreds of faces each night," she said.
When asked about her favourite scary look to create, Jenna's eyes lit up.
"Zombies are my top favourite, just the thrill of turning someone into an undead creature is unmatched."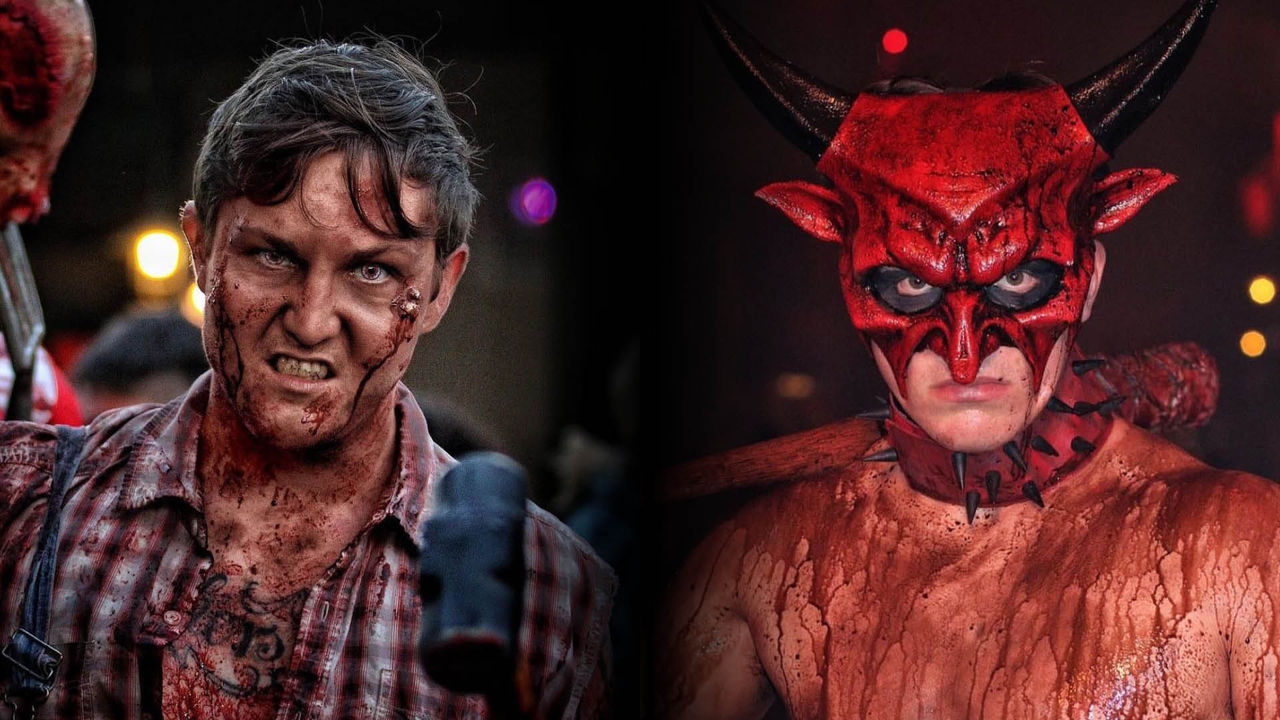 Fellow TAFE Queensland beauty student, Jade Thomassen agreed that the zombies are terrifying and acknowledged TAFE Queensland for giving her the skills and abilities to excel at Movie World's Fright Nights.
"It's such an amazing experience. I am so grateful for our teachers who encouraged us to get involved with these opportunities to help broaden our skills and knowledge," said Jade.
Meanwhile, 18-year-old Amani Halilovic may have found her calling in creating gruesome bloody gore as the experience has gratified her fascination with the magic of film.
"I've had an interest in special effects and behind the scenes of films for some time and this opportunity is giving me the chance to explore and see if this is something I want to pursue," said Amani.
TAFE Queensland's beauty therapy teacher, Tracy Fearn said Movie World's Fright Nights give students the opportunity to dive into the fast-paced vibe of a real-life studio.
"This opportunity has a series of benefits for our students, that range from skill development to networking and career advancement," said Tracy.
"It allows for a diverse role in shaping the students' career aspirations and providing them with invaluable links to real-world experiences and opportunities in the field of special effects makeup."
The Robina campus teacher said being immersed in such a professional environment motivates and inspires the students, instilling a deep sense of gratitude for the opportunities that TAFE Queensland provide.
"They receive recognition and praise from experienced artists and teachers, affirming their talent and potential," she said.
As these TAFE Queensland beauty students paint, sculpt, and transform, they're not just creating monsters – they're becoming real-life heroes in their own story of success.