Donation to TAFE Queensland's Chinchilla campus powers energy careers on the Western Downs
Electrotechnology trade training on the Western Downs has been charged up with a generous donation to complement TAFE Queensland Chinchilla's trade training facilities.
Valued at more than $20,000, the donation of new electrotechnology equipment was procured by the Chinchilla Chamber of Commerce and Industry thanks to Origin Energy's community grant program.
Sourced from one of the world's leading manufacturers of industrial test, measurement and diagnostic equipment, Fluke, the donation includes items such as calibrators, pressure test kits and multimeters.

TAFE Queensland Electrotechnology Teacher, Michael Batchelor, said the equipment will be used during practical training sessions with local electrotechnology and instrumentation apprentices at the Chinchilla campus.

"We're currently building an instrumentation test rig with our apprentices and the new Fluke equipment will be used to calibrate and test the instrumentation rig," said Mr Batchelor.

"The new equipment will ensure our apprentices are gaining exposure to current industry practices — they'll be using and practicing on equipment similar to what you'd find in a gas plant on the Western Downs, for example."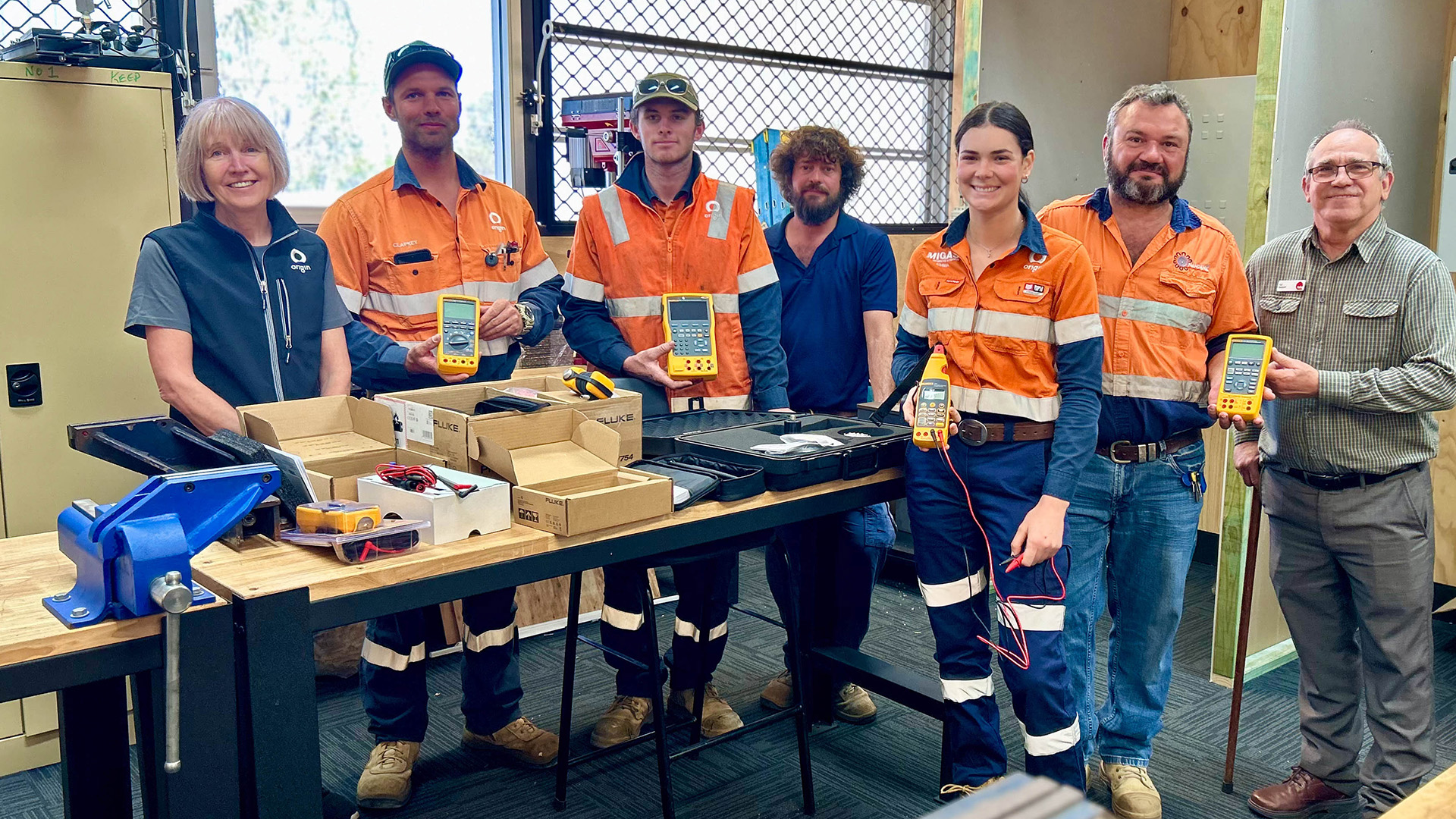 TAFE Queensland General Manager of the South West Region, Jenni Butler, said that the organisation works closely with the region's businesses and employers to help equip apprentices with the skills needed to build successful electrotechnology careers.

"What a wonderful donation — I know it will be well-received by our Chinchilla-based electrotechnology trade training team and will provide even more opportunities for our apprentices to gain industry-relevant, in-demand skills for the region's booming energy sector," said Mrs Butler.

"There are 65 apprentices currently enrolled in electrotechnology and instrumentation trade courses at our Chinchilla campus, and we expect that number to continue to grow into the future to meet local industry demand."

"On behalf of TAFE Queensland, I would like to acknowledge and thank the Chinchilla Chamber of Commerce and Industry and Origin Energy — the upstream operator Australia Pacific LNG — for this donation."

Origin Energy Asset East General Manager, Steve Thatcher, said the organisation was proud to support educational initiatives in the Western Downs, to nurture and empower the next generation of energy professionals.

"Developing a resilient and efficient energy sector in Australia depends on training individuals in areas such as electrotechnology," Mr Thatcher said.

"Empowering our workforce with the skills and knowledge they need to succeed will help us achieve a brighter energy future."

TAFE Queensland is the state's leading training provider for the Certificate III in Electrotechnology (UEE30811), training around 70 per cent of the total electrical apprentices employed in Queensland.

Local apprentices can undertake the Certificate III in Electrotechnology (UEE30811) or Certificate III in Electrotechnology Electrician incorporating Certificate III in Instrumentation and Control (UEE30811/UEE31211) at TAFE Queensland's Chinchilla campus with experienced trade trainers who remain embedded in industry.