Student email
Students can send and receive emails from their TAFE Queensland provided mailbox. It's a great place to check regularly to make sure you're getting the latest information from your teachers. You can also use this address to contact other students.
Accessing your student email
To access your student mailbox you can use the button above OR:

Log into tafeqld.edu.au/office with your student details
Click on the Outlook app on your Office dashboard.
This will open your inbox, ready for you to read or send messages.
What's my new email address?

You can look up your TAFE Queensland student email address by logging in, and then clicking on your profile dropdown in the top-right corner.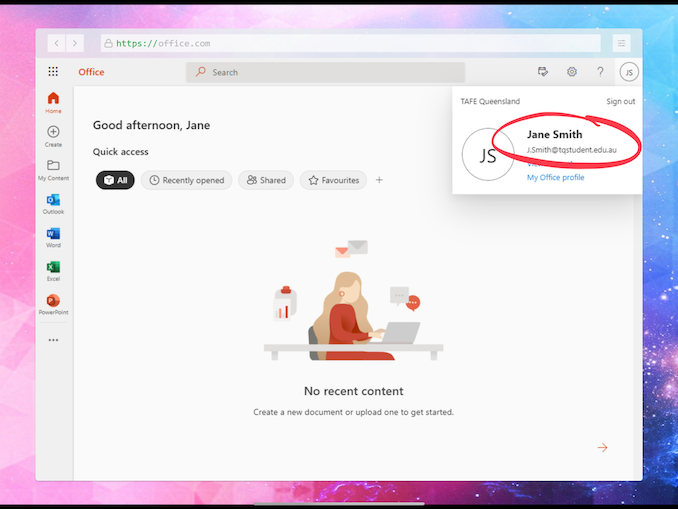 Can I forward my email to my personal address?

If you prefer to forward your email to a personal email address instead, you can set up your inbox to automatically forward all messages to a nominated address.
To do this, please see the following instructions: Turn on automatic forwarding in Outlook on the web (Microsoft).
Please note that TAFE Queensland is not responsible if outgoing forwarded email messages are flagged as spam or blocked on your personal address. We recommend keeping a copy of all forwarded messages in your TAFE Queensland mailbox.
Student IT resources
Whether you are a new or returning TAFE Queensland student, find information on how to set up a TAFE Queensland email address, download and access programs related to your study, and view special offers.

Technical support
As a TAFE Queensland student, you have access to our computer network and a range of digital services including WiFi, Connect, Studiosity, and more. Find everything you need to set up passwords and access these services.