Adobe Creative Cloud
Current TAFE Queensland students are able to access the Adobe Creative Cloud software at a heavily discounted price using their student credentials.
TAFE Queensland has partnered with Adobe to offer our current students* a 12 month subscription to Adobe Creative Cloud for $55 incl GST.  
The package allows students to access Adobe Creative Cloud on their personal computers as well as the TAFE Queensland library computers, and can be purchased through the TAFE Queensland web store.
Please view the instructional video, download the instructional PDF or see our FAQ below for more information. 
*students must be enrolled into a TAFE Queensland course in order to be considered a current student. 
How to purchase the Adobe Creative Cloud Suite through the TAFE Queensland Web Store
Frequently asked questions
The TAFE Queensland Web Store can be accessed by using your student email and password.  Your student email will be studentnumber@tafeqld.edu.au, and if you don't know your password you can reset it using the Password Reset page (screenshot below).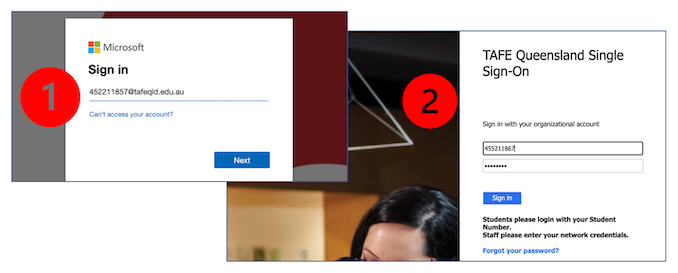 The option "Adobe Creative Cloud ETLA (1 Year)" is the correct option for taking advantage of this offer.  Please refer to the screenshot below, and ensure that the $55 price is reflected in the cart.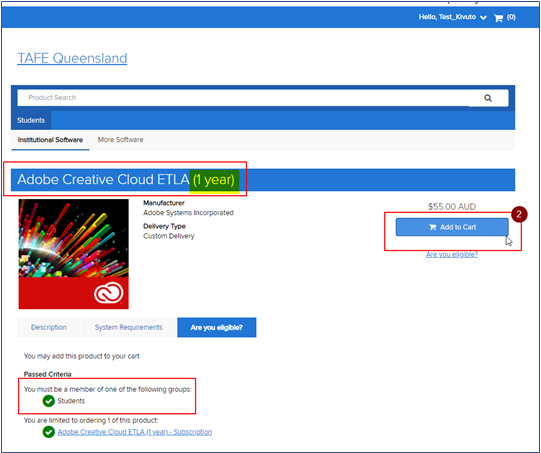 The subscription will last for 12 months from the purchase date, and this date will be confirmed once the transaction has been processed (screenshot below):