Queensland-first electric vehicle training launches
TAFE Queensland hosts event to engage with automotive industry on the future of skills training.
TAFE Queensland's Queensland-first electric vehicle (EV) training was officially launched yesterday, with more than 100 industry representatives in attendance to learn about the future of Queensland's automotive industry training.
The event was held to launch the Queensland-first initiative on offer at TAFE Queensland, whereby any automotive apprentice enrolled at the state's largest training provider can elect to include four nationally recognised EV training units in their apprenticeship training plan at no extra cost to their employer.
A panel of industry experts including representatives from TAFE Queensland, Toyota, HESS Metro vehicles, and Heavy Vehicle Industry Australia (HVIA) participated in a Q&A session with questions regarding the future of automotive training in Queensland.
Given their different industry sectors, the panellists brought different perspectives on the industry to the launch and were able to have productive, robust discussion about the future of skills training in Queensland. One thing they all could agree on was the importance of TAFE Queensland's inclusion of EV units in apprenticeship elective lists.
Whilst other training organisations are offering the units as extra study to be completed and paid for after an apprenticeship, TAFE Queensland are the first to include them in the possible elective units of the apprenticeship itself. The initiative forms part of TAFE Queensland's 'training lifecycle' plan for EV skills.
The plan aims to service industry workers at all points of their career lifecycle, offering the units to apprentices and in a specialised SkillSet (SSAUR0005) for qualified technicians across a variety of sectors in the automotive industry. TAFE Queensland – SkillsTech General Manager, John Tucker, said the plan was part of TAFE Queensland's commitment to industry.
"The training lifecycle plan caters for apprentices of the past, present, and future to upskill Queensland's automotive industry quickly in the face of the fast-changing automotive landscape in our great state."
"We are in constant contact with industry members to ensure we are delivering on their needs for the current and future," Mr Tucker continued, going on to detail the training on offer for qualified technicians in Queensland.
"To help the Queensland automotive industry quickly and efficiently upskill its existing workforce, TAFE Queensland have launched a SkillSet course for technicians to complete four nationally accredited units in one training block, with industry experience as the only pre-requisite."
The first on-campus running of the SkillSet began on Monday 31 October, with a mixture of light and heavy automotive technicians making up most of the sold-out class. TAFE Queensland included two of their own teachers in the class to ensure there are an abundance of teachers ready to deliver the popular units.
A full class of 14 qualified technicians were undertaking the third day of the pilot yesterday, and attendees of the launch event were able to visit TAFE Queensland's EV training facilities and watch the training in action.
Students epitomised the new wave of technicians in Queensland, challenging current stereotypes, which panellist David Cooper, Toyota Australia Manager of Technical Operations (Northern Region), says is part of the changing landscape of the industry.
"Servicing is evolving, there will be less changing of oil, and more checking computers have the latest files," he said, "we need to change the way the automotive trade is seen, to be one that people with math and science skills are interested in and aspiring to."
There were a number of EVs on display which attendees brought with them to the launch, including models from leading manufacturers such as Tesla, BMW, Toyota, Lexus, and more; Toyota even brought a Mirai Hydrogen powered vehicle. Attendees were treated to a tour of the range of vehicles on the market including the wide range of electric vehicles that live at TAFE Queensland specifically for skills training.
TAFE Queensland's training fleet includes all manner of vehicles from sedans to excavators, and consists ofHEV and BEV models from multiple manufacturers. With such a wide range of vehicles to train on, TAFE Queensland students are able to have a well-rounded understanding of electric vehicles when they finish their apprenticeship or SkillSet.
Yesterday's event cements the local automotive industry's commitment to upskilling and taking on the challenges of an ever-changing automotive landscape, and signifies TAFE Queensland's position at the front of the pack to skill Queensland's workforce for the future.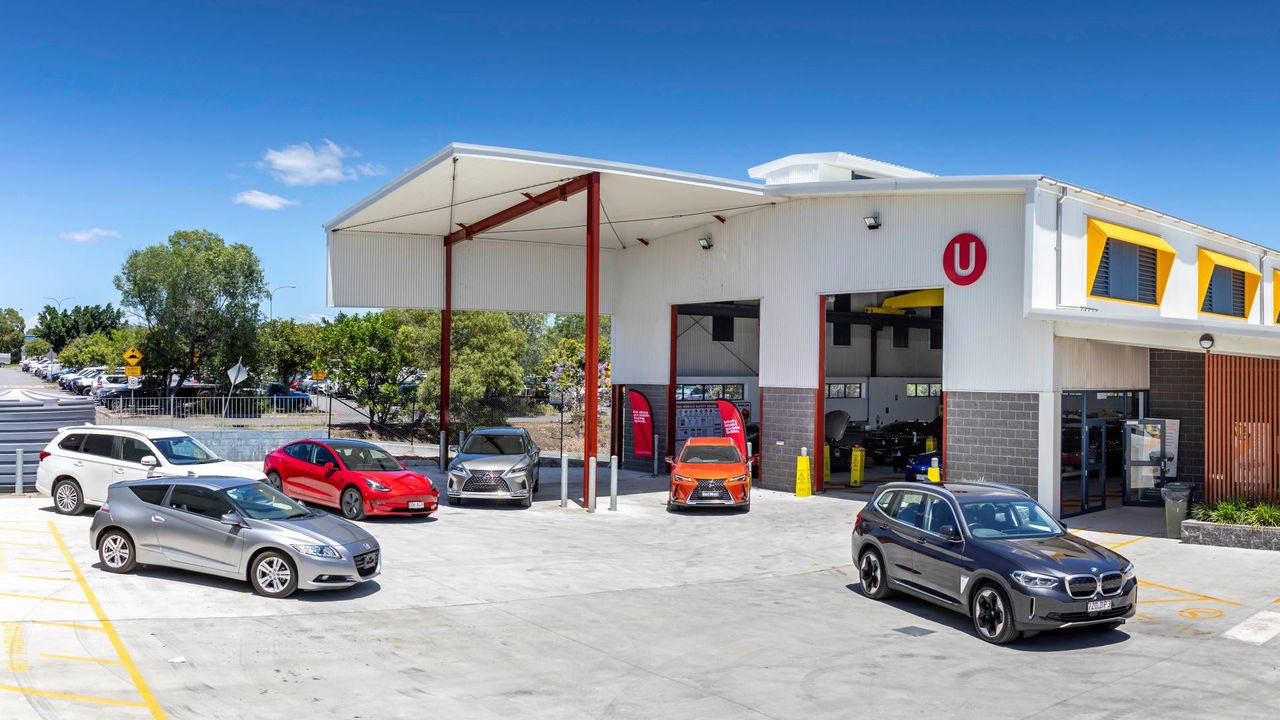 Display vehicles on the day.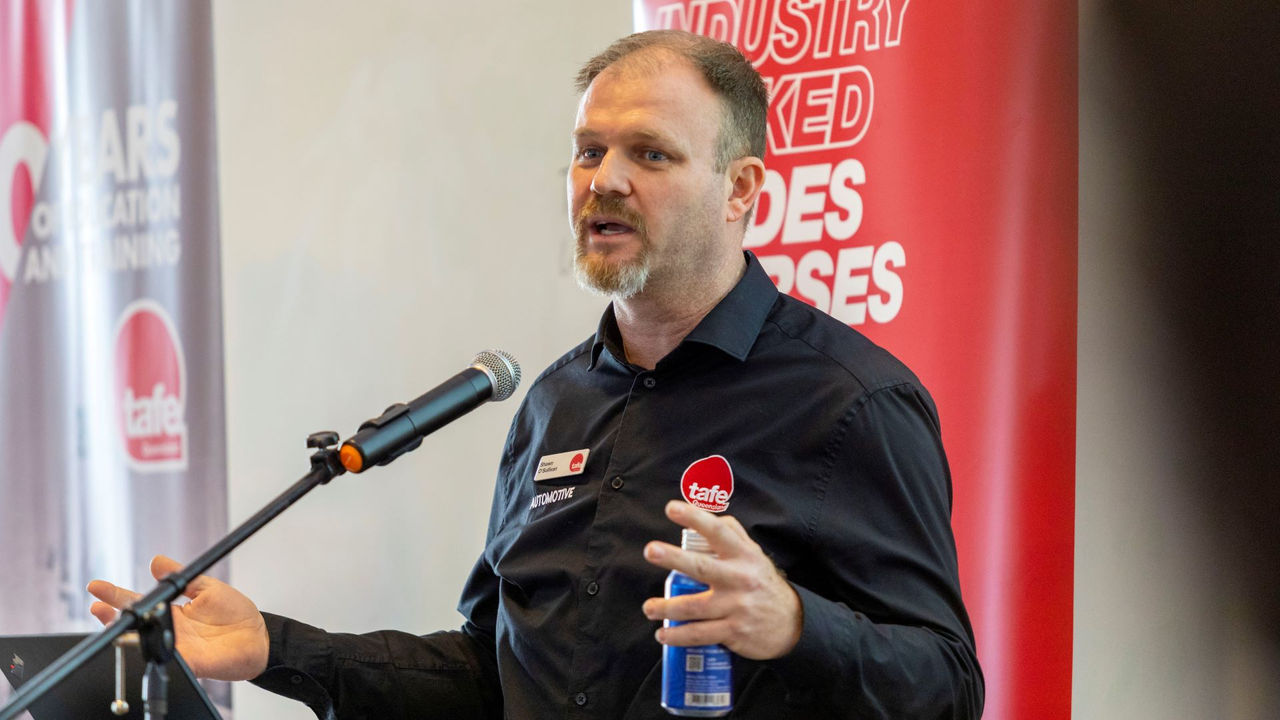 Shawn O'Sullivan (TAFE Queensland) presents to attendees.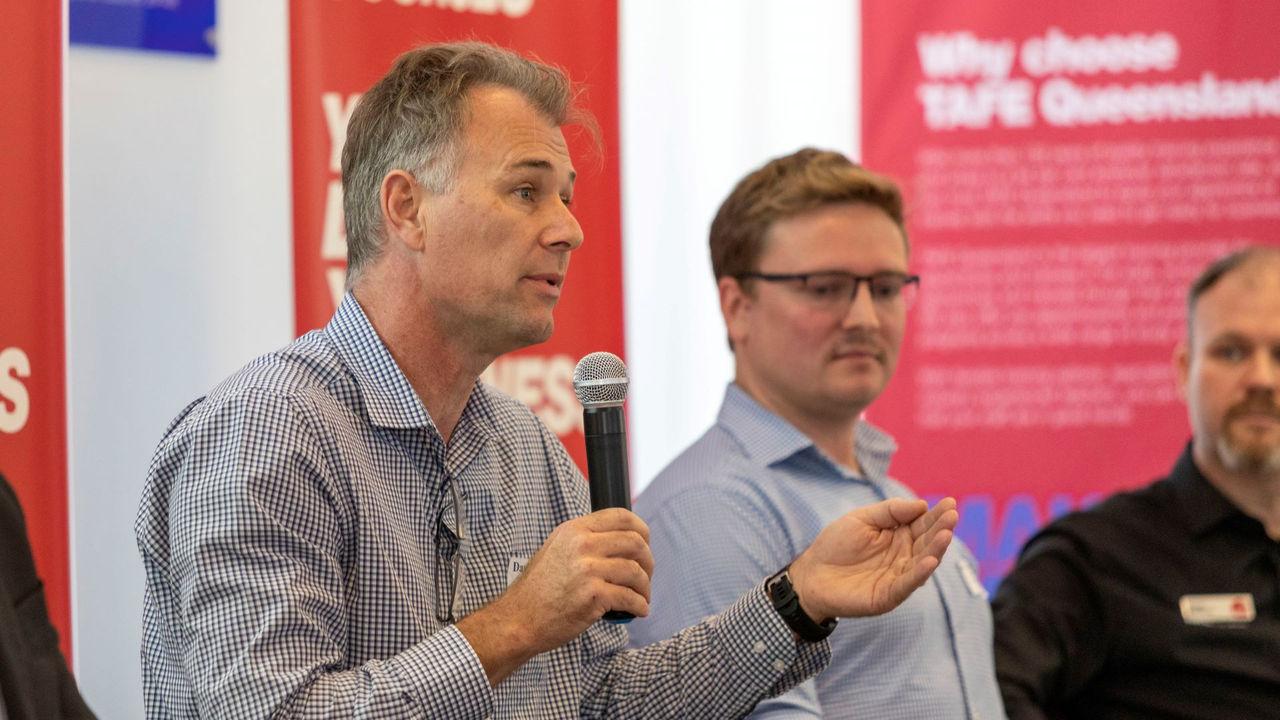 David Cooper (Toyota) speaks to manufacturers' perspectives.