TAFE Queensland Defence Members Transition program recognised on national stage
TAFE Queensland's Defence Members Transition program was recognised as a Vocational Education and Training leader at the recent TAFE Directors Australia National Awards.
The leader of TAFE Queensland's Defence Solutions Team, Garry Hargreaves, was recognised on the national stage by TAFE Directors Australia as the Gold Medal recipient in the Collaboration Leader Award for 2022.
TDA Chief Executive Officer Jenny Dodd said there were more than a hundred nominations for the awards, with the finalists selected by TDA Board members.
"The awards demonstrate the extraordinary depth of talent and the commitment by so many people across our TAFEs," Ms Dodd said.
"It was a great honour to see the amazing nominations, and to recognise the outstanding individuals and teams that have enabled TAFEs to excel."
The award, presented in front of Vocational Education and Training industry peers in Adelaide, was earned through Mr Hargreaves' and the dedicated TAFE Queensland Defence Solutions Team's efforts to collaborate with the Australian Industry and Defence Network (AIDN) to provide TAFE Queensland training to veterans transitioning into civilian careers.
The Defence Member Transition Program provides veterans with guidance and assistance in selecting appropriate training at TAFE Queensland to begin their civilian careers, ensuring that veterans make use of the Queensland Government's Free TAFE for Queensland Veterans funding where possible. 
Mr Hargreaves said of the award, "this is a recognition of the effort TAFE Queensland has put into the Defence Member Transition Program. This is a specialist team committed to helping Queensland veterans transitioning to civilian careers, with more than half of the team members being veterans themselves. We work with collaboration partner, AIDN, to provide direct links with national industry employers in the Australian Defence industries".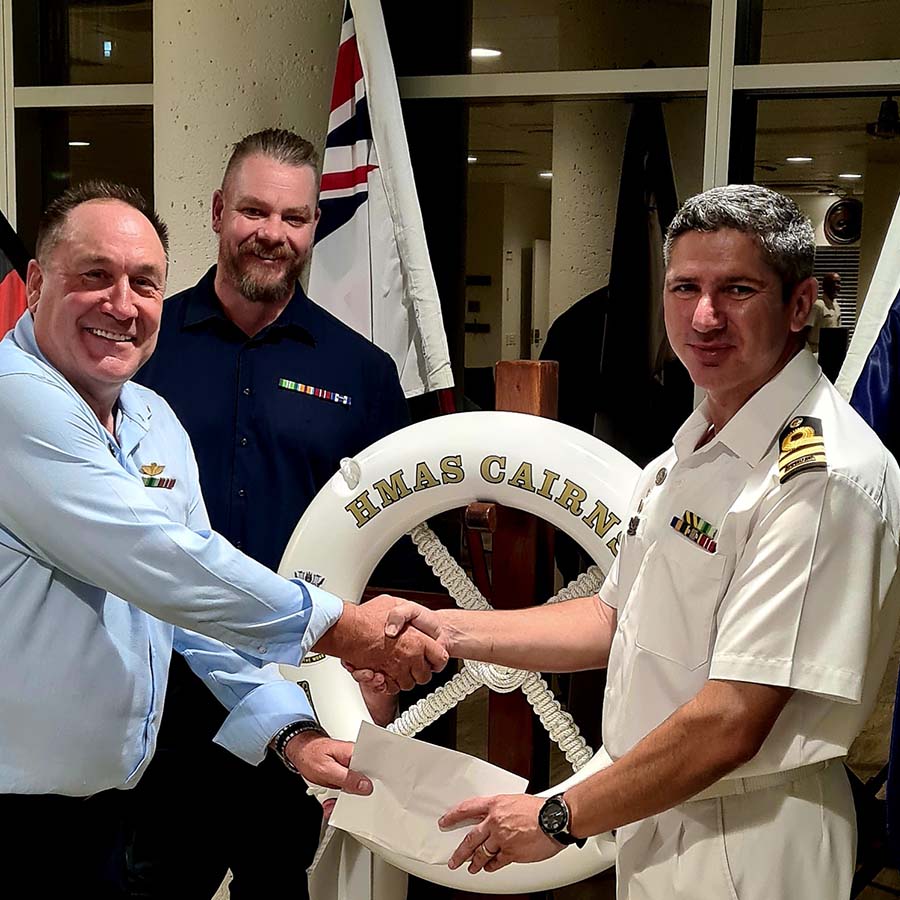 The award came with a cash prize of $500, which the TAFE Queensland team subsequently donated to the HMAS Cairns initiative which will see Sailors embark on a Kokoda Trail expedition in 2023. The team became aware of this expedition and the opportunity to support with their prize money through their close connections with the Commanding Officer of Northern Australia's key strategic naval base.
"One of the key challenges in Defence Transition Training is interpreting skills, experience and language within the clearly defined hierarchy of the military and applying these to civilian life. Our TAFE Queensland Defence Project Officers team at Acacia Ridge is made up of highly experienced ex-military personnel who have the ability to understand the unique skill sets and experience obtained during a career in defence and how those skills transfer into civilian careers," Mr Hargreaves said.
The TAFE Queensland Defence Members Transition Program has been recognised nationally for its success before, with the Australian Defence Force (ADF) inviting the team to present to other Vocational Education and Training institutions at Defence Transition workshops around the country in 2022.