Women in Engineering on the rise at TAFE Queensland
TAFE Queensland is experiencing a rise of women in engineering training across the state, with many students topping their classes and taking home awards.
As the national demand for skilled engineers continues to grow, so too does the opportunity for women to enter what has traditionally been a male-dominated trade industry.
This is the opinion of Queensland's largest Vocational Education and Training (VET) provider, TAFE Queensland, given its increasing number of females entering into engineering training each year.
TAFE Queensland - SkillsTech General Manager John Tucker said creating a pathway for women into trade careers is central to supporting the growing skills demands across Australia, including in engineering.
"TAFE Queensland is committed to encouraging and supporting female students undertaking trade training as best possible so they can achieve their full potential," Mr Tucker said.
"The number of women training in traditional trade areas at TAFE Queensland has increased by more than 60 per cent in the last five years (from 2017-2022), particularly in engineering."
"In fact, over the last three years alone (between 2018-19 and 2021-22), female students entering into engineering training at TAFE Queensland increased by over 80 per cent. "
"At TAFE, we look to remove barriers and challenge stigmas placed in front of any of our students and allow them to build a lifelong career they are passionate about. This applies to all of the industries we service, from engineering and construction right through to nursing and community support," he said.
One example of TAFE Queensland's high-achieving women in engineering is Brittney Bellingham, a recently completed apprentice boilermaker who attended training at TAFE Queensland's Cairns campus having made use of the Queensland Government's Fee Free Apprenticeships and Traineeships funding.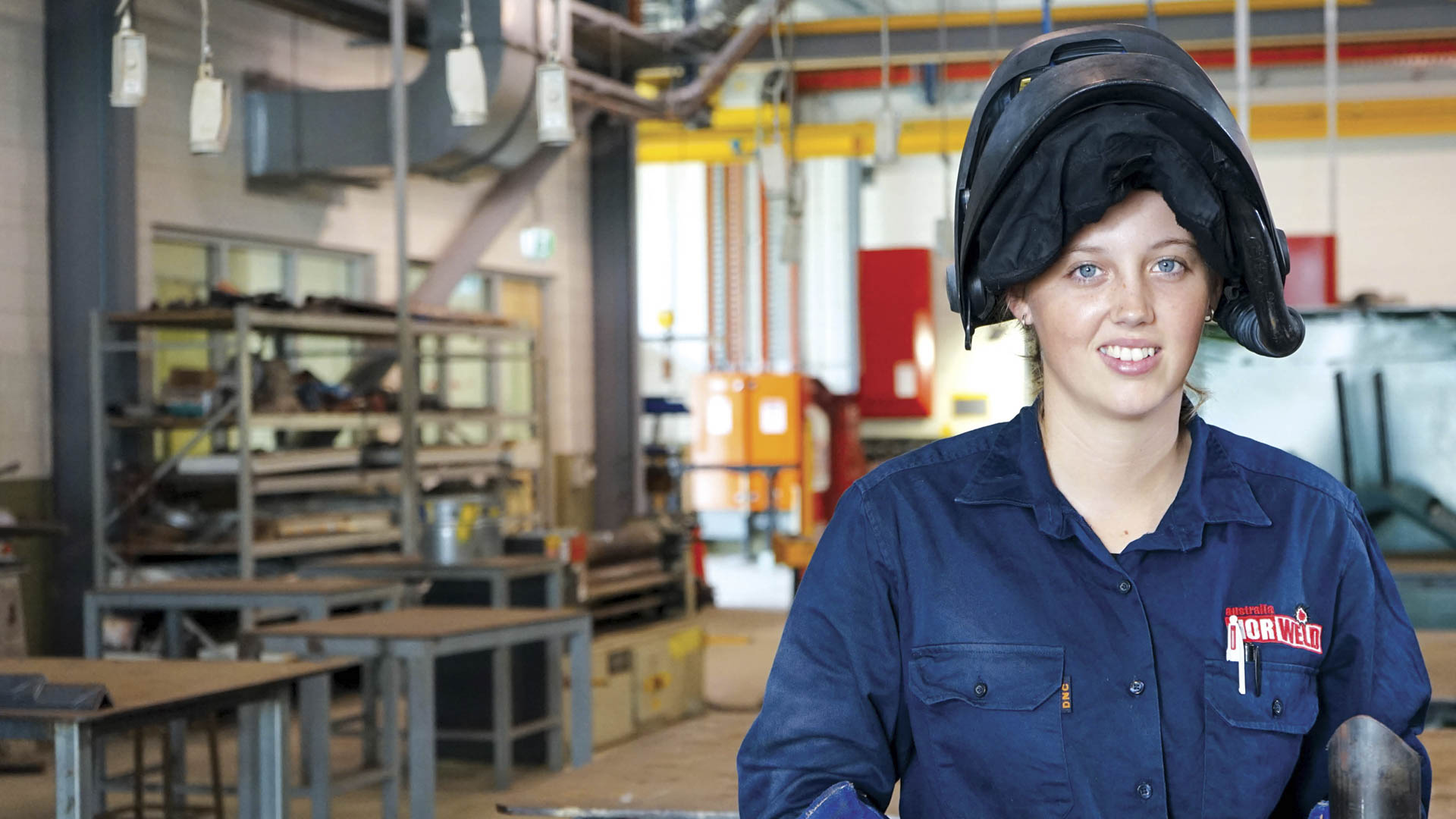 As a school-leaver who had a passion for the engineering industry and chased her career from a young age, Brittney began her Certificate III in Engineering - Fabrication Trade (MEM30319) training straight after completing high school.
"My TAFE Queensland training helped me because when I first started, I had no experience, all I did was welding. At TAFE they showed me how to cut everything, mark it all out and then how to weld properly," Brittney said.
"TAFE Queensland helped me develop my skills. I would describe my teachers as being really friendly, they taught me a lot."
"Being an apprentice was good for me. I had no experience coming in, which was scary, but my employer was really encouraging. He helped me out a lot and I got paid to learn what I love doing."
Brittney said she is glad she turned her love for welding into a career and she hopes more women join the profession.
"If you're thinking about pursuing a trade career, just go for it. It doesn't matter what anyone says to you, just do it. If you are really keen, people will take you on and help you out a lot."
In another part of the state, in Brisbane, another passionate female boilermaking apprentice is making waves. Hailey Dicker is a School-based Apprentice in the engineering sector and has greatly impressed her employer with her attention to detail and efficiency in the workshop.
An immensely skilled tradesperson in the making, Hailey won the prestigious TAFE Queensland SkillsTech School-based Apprentice of the Year award in November. Hailey's employer gave high praise for the youngster in the award nomination process.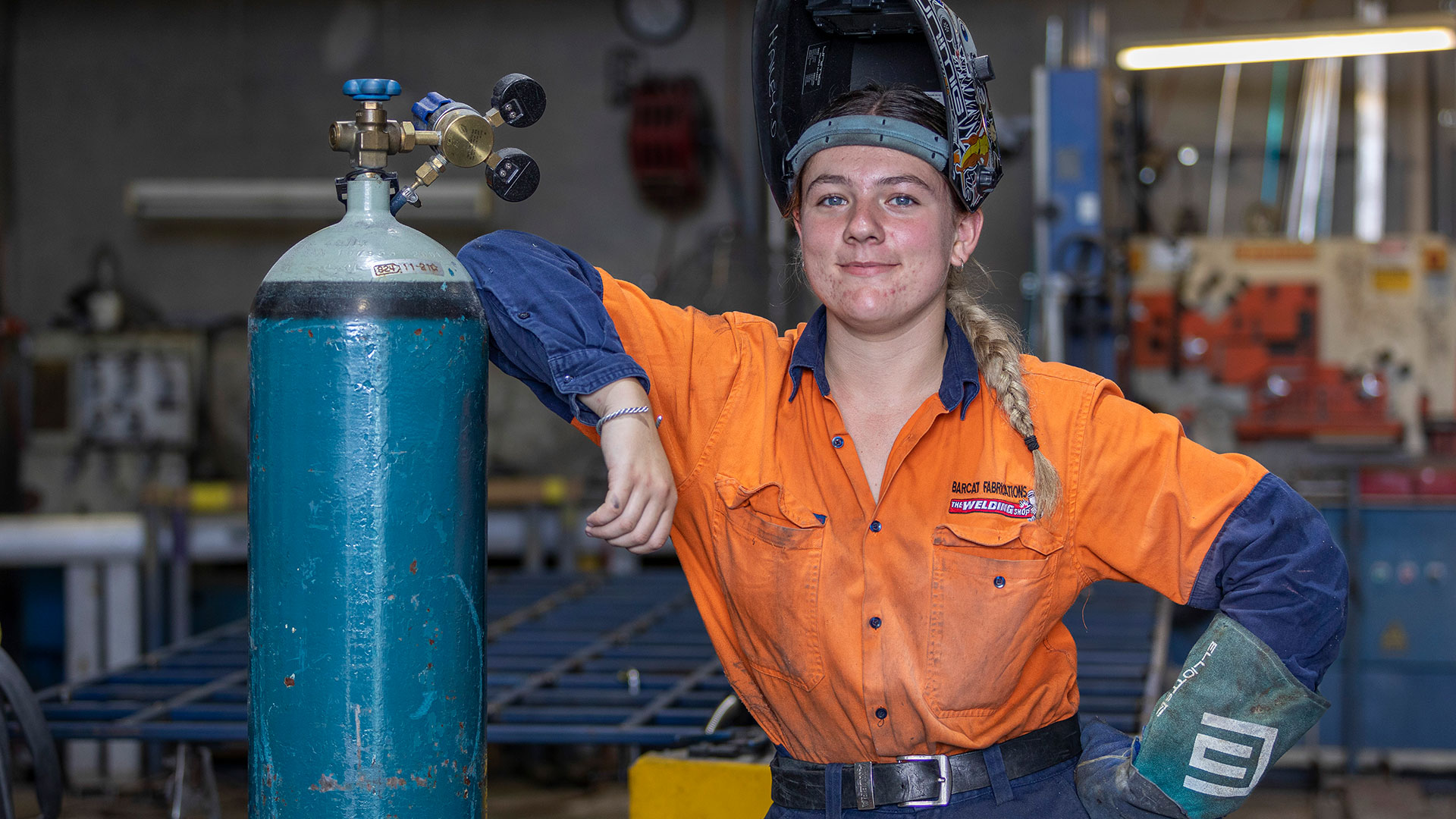 "I can say without hesitation that Hailey is by far the best employee I have ever hired in my long, long career and she is extremely deserving of being recognised for an award," said Barney Dunn of Barcat Fabrications.
Hailey herself praised the teachers and environment at TAFE Queensland, citing the support she received during her training as a key contributor to her success.
"When I went on campus to Acacia Ridge, all the staff were very helpful and kind. Also the training facilities and courses they offer are amazing," Ms Dicker said.
"I would definitely recommend to other people to start their future with TAFE Queensland."
TAFE Queensland offers training in engineering from entry level qualifications such as the Certificate II in Engineering Pathways (MEM20413) that can be completed by high school students, through to the Advanced Diploma of Engineering (MEM60112).
With 140 years of high quality training experience and a 92.1 per cent employer satisfaction rate, TAFE Queensland is committed to increasing opportunities for women in engineering and other traditional trades along with providing Queenslanders with the high quality, hands-on training they need to succeed in their chosen career, while fulfilling the skills demands of the community.