Visual arts
TAFE Queensland offers our visual and creative arts students a range of creative spaces and specialised facilities to practice and develop their craft. With large, open-plan studios, ceramics workshops, kilns, and galleries to present your work, you'll have everything you need to launch your artistic career.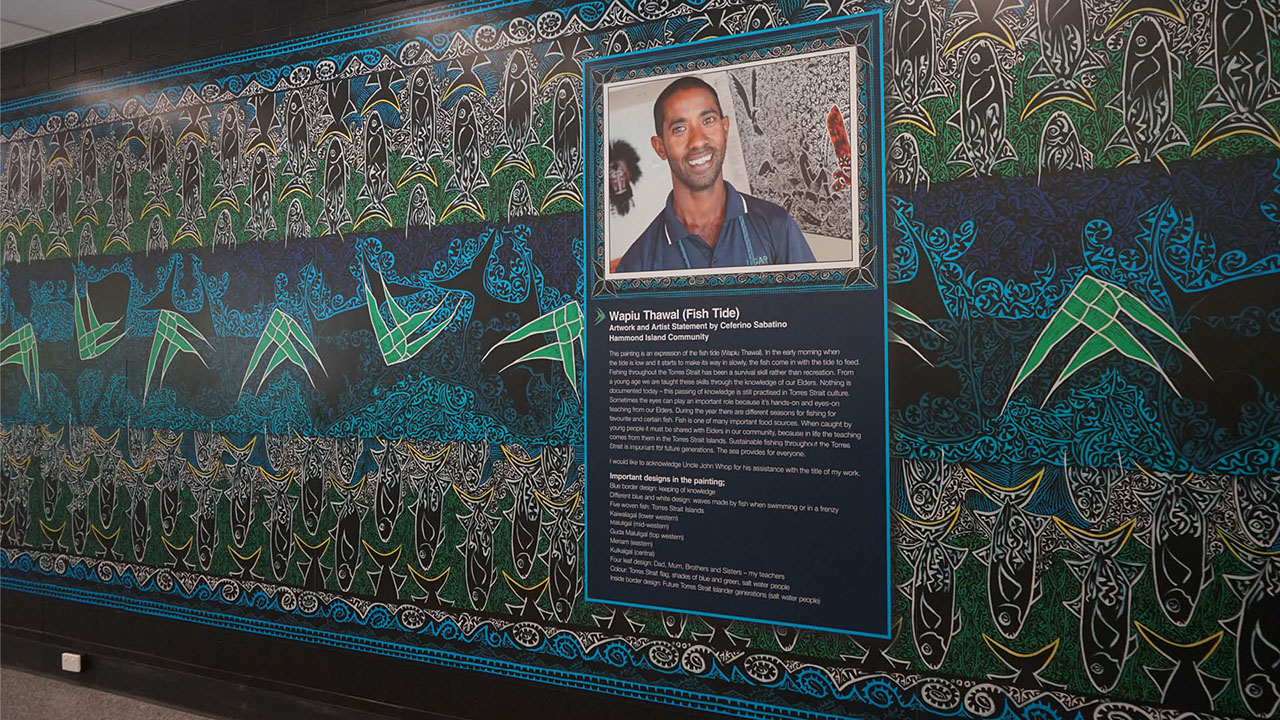 Thursday Island
The Thursday Island campus is home to the Ceferino (Nino) Sabatino Memorial Art Studio. The facility was officially opened in 2019 to recognise the creative legacy of former TAFE Queensland student and teacher, Nino.
Nino willingly and proudly enjoyed sharing his cultural art skills and knowledge with others. Nino is best known for his turtle creations, which he made from recycled beach rubbish and abandoned fishing nets. 
Cairns 
The visual arts studios at our Cairns campus are open plan, collaborative work spaces. The studios include work benches, wet areas and easels, facilities for acrylic painting and Shibori textile dyeing, as well as a wide range of arts supplies. The Cairns campus is also home to the Banggu Minjaany Art Gallery, an artistic hub for our Aboriginal and Torres Strait Islander students to show off their creative talents and culture.
Our Cairns campus also features specialised facilities for our ceramic and pottery students. Our pottery studio includes a pottery wheel and spaces for hand building as well as a range of pottery tools including potter's needles, cut-off wires, fettling knives, ribs and scrapers, modeling tools, potter's calipers, and loop, wire, and ribbon tools. We also have a tophat raku kiln and post-firing reduction pits, used to introduce students to glazing and firing techniques.
South Bank
Located in Brisbane's arts and cultural precinct, our South Bank campus is a thriving creative hub. Visual and creative arts students learn in our professional art studio, with second and third year students also having access to dedicated individual studio spaces for their major projects.
One level of the studio is dedicated to sculpture and ceramics and features a ceramics workshop and kilns. 
The second level has studios for drawing and painting, with both levels converting to galleries for regular art exhibitions showcasing our student's creative work. 
Nambour
Students at our Nambour campus have access to a collaborative visual arts centre which converts into a gallery and exhibition space for our yearly creative showcase. The space is used by visual and creative arts students studying painting, drawing, ceramics, and sculpture.
Our Nambour campus features a range of specialised equipment including easels, pottery wheel, and work benches as well as a comprehensive range of arts supplies including acrylic, oil, and water-based paints, paintbrushes, pottery tools, and drawing media such as graphite, charcoal, ink and pastels.