Air-conditioning and refrigeration
Air conditioning and refrigeration mechanics install and repair industrial, commercial, and domestic equipment. Our air conditioning and refrigeration courses will qualify you to apply for your Restricted Electrical Licence and full Refrigerant Handling Licence.
About air conditioning and refrigeration training
Employment opportunities in refrigeration and air-conditioning maintenance are expected to remain solid with up to 25,000 jobs available over the next five years according to the Australian Government's JobOutlook service.
We offer introductory certificate II courses through to diploma-level qualifications to set you up for entry-level or management roles in the industry. Our air conditioning and refrigeration courses will also qualify you to apply for your Restricted Electrical Licence and full Refrigerant Handling Licence.
At TAFE Queensland our teachers are trade qualified with years of experience in the refrigeration and air-conditioning industry. Their knowledge of current industry technologies will ensure you graduate as a competent and confident tradesperson capable of becoming a leader in your field.
Career outcomes
Air-conditioning and refrigeration manager
Air-conditioning and refrigeration mechanic
Air-conditioning and refrigeration supervisor
Split air-conditioning and heat pump installer
My TAFE Queensland training has helped me in the workplace. I got a taste of the range that my industry covers, it opened my eyes to the whole scope of works.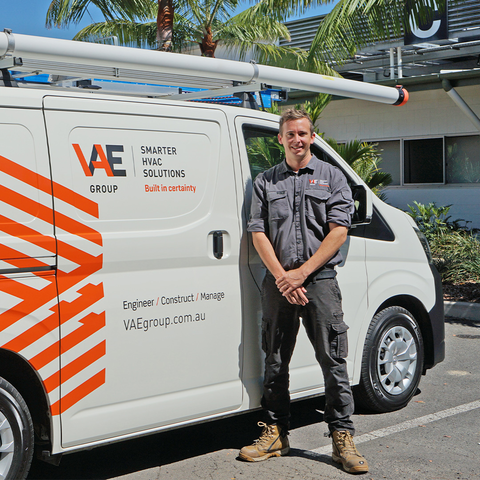 The theory and hands-on training that I gained at TAFE Queensland has been very important when I'm out in the field. You can't just be good at the theory or the practical side of things, you need both to able to work effectively.
High tech refrigeration and air-conditioning workshops
At TAFE Queensland we have invested over $30 million into facilities for our electrical, refrigeration and air-conditioning, automation, instrumentation and telecommunication students. Purpose-built in consultation with industry, our modern and high-tech classrooms and workshops simulate commercial and residential environments, allowing us to provide industry with the most highly skilled and competent tradespeople.  
Information for apprentices
Learn hands on with the same equipment and tools used in industry by combining working for your employer with pracitcal training from TAFE Queensland. You'll graduate with a nationally-recognised qualification and be ready to kick start your career. 
Information for employers
Apprenticeships and traineeships are a smart way to recruit and train employees to meet the needs of your business. No matter what industry you're in, hiring an apprentice or trainee provides your business with real benefits and contributes to your bottom line.