Course price list for international students
TAFE Queensland offers a variety of courses to international students across a wide range of study areas and qualification levels. For the complete list of courses available to international students — including tuition costs, campus locations and start dates — please see our international tuition list below.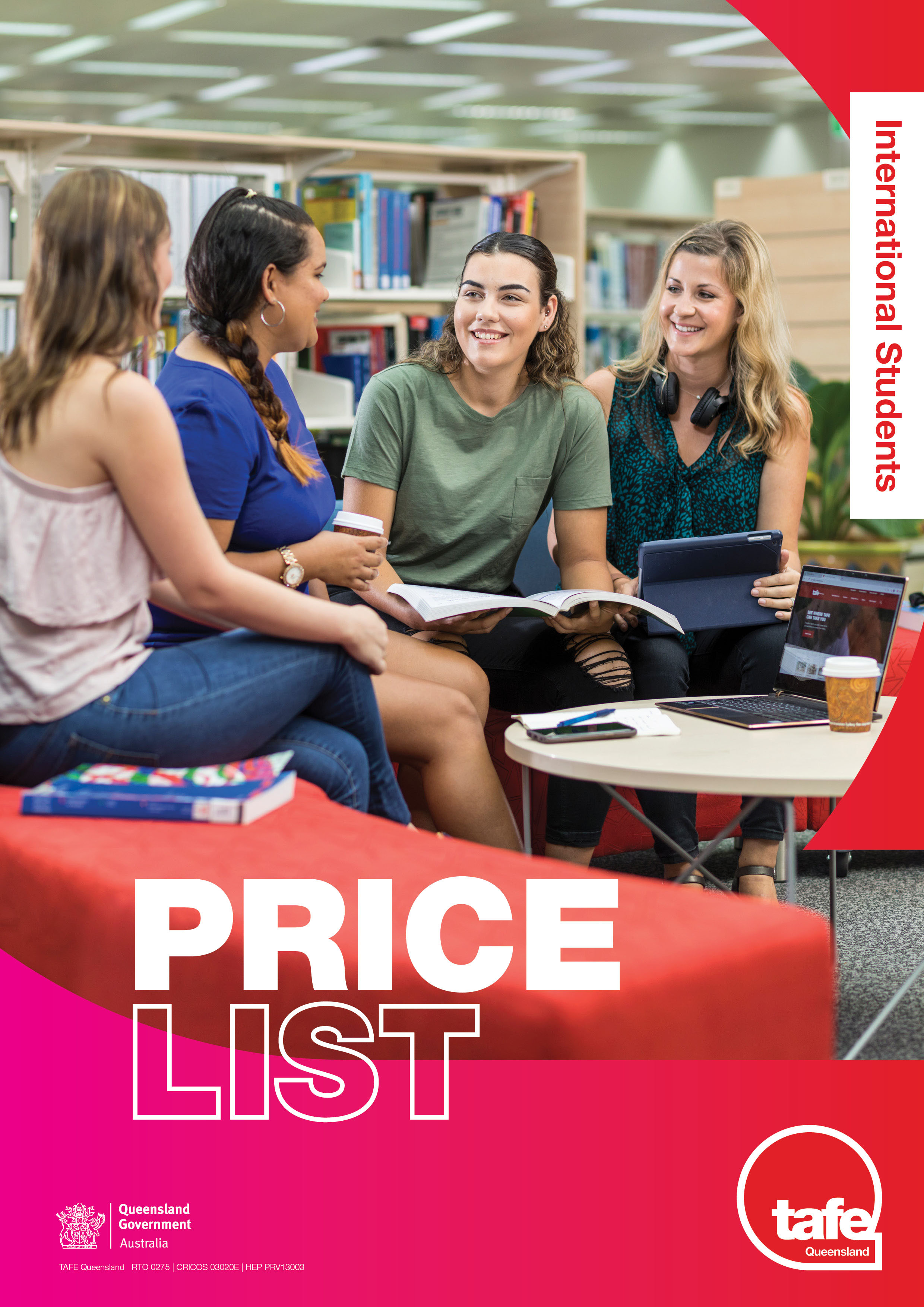 International price list
Please note, prices are subject to change without notice.  Our prices are listed on individual digital course brochures, for more information search for the course you are interested in, or take a look at our international price list.
Last updated 29/09/2023
Business and IT
Program Name

CRICOS Code

Program Code

Cost (total)

Location

Study Period

Start of Study (Intake)

Certificate III in Accounts Administration

110034H
FNS30322
$3,000

South Bank, Brisbane

6 Months

22/01/2024
08/07/2024
Certificate III in Accounts Administration
Certificate IV in Accounting and Bookkeeping
Diploma of Accounting

110034H
109980J
112112E
FNS30322
FNS40222
FNS50222

$3,000
$7,900
$8,800

South Bank, Brisbane

6 Months
6 Months
6 Months

22/01/2024
08/07/2024
Diploma of Business
Diploma of Leadership and Management

108530K
104562A

BSB50120
BSB50420

$12,300

South Bank, Brisbane
Robina, Gold Coast
Cairns

1 Year

22/01/2024
08/07/2024
Diploma of Business
Diploma of Marketing and Communication

108530K
108652M

BSB50120
BSB50620

$15,800

South Bank, Brisbane

1 Year

22/01/2024
08/07/2024
Certificate III in Information Technology

106316K

ICT30120

$7,800

Bracken Ridge
Loganlea
South Bank, Brisbane
Mooloolaba, Sunshine Coast
Cairns
Pimlico, Townsville
Bundamba, Ipswich
Toowoomba
6 Months

22/01/2024
08/07/2024
Diploma of Information Technology (Advanced Networking and Cloud Engineering)

107313E

ICT50220

$17,200

South Bank, Brisbane
Mooloolaba, Sunshine Coast
Coomera, Gold Coast
Cairns
Pimlico, Townsville

1 Year

22/01/2024
08/07/2024
Certificate III in Information Technology
Diploma of Information Technology (Advanced Networking and Cloud Engineering)

106316K
107313E

ICT30120
ICT50220

$7,800
$17,200

South Bank, Brisbane
Mooloolaba, Sunshine Coast
Cairns
Pimlico, Townsville

6 Months
1 Year

22/01/2024
08/07/2024
Diploma of Information Technology (Advanced Programming)

107313E

ICT50220

$17,200

Bracken Ridge
Loganlea

1 Year

22/01/2024
08/07/2024
Coomera, Gold Coast

22/01/2024
Certificate III in Information Technology
Diploma of Information Technology (Advanced Programming)

106316K
107313E

ICT30120
ICT50220

$7,800
$17,200

Bracken Ridge
Loganlea

6 Months
1 Year

22/01/2024
08/07/2024
Diploma of Information Technology (Back End Web Development and Front End Web Development)

107313E

ICT50220

$17,200

South Bank, Brisbane

1 Year

22/01/2024
08/07/2024
Certificate III in Information Technology
Diploma of Information Technology (Back End Web Development and Front End Web Development)

106316K
107313E

ICT30120
ICT50220

$7,800
$17,200

South Bank, Brisbane

6 Months
1 Year

22/01/2024
08/07/2024
Diploma of Information Technology (Advanced Networking and System Administration)

107313E

ICT50220

$17,200

Bundamba, Ipswich
Toowoomba

1 Year

22/01/2024
08/07/2024
Certificate IV in Cyber Security
112094B
22603VIC
$15,600
Bracken Ridge
Mt Gravatt, Brisbane
South Bank, Brisbane
Mooloolaba, Sunshine Coast
Coomera, Gold Coast
Bundamba, Ipswich
Toowoomba
1 Year
22/01/2024
08/07/2024
Creative industries
Program Name

CRICOS Code

Program Code

Cost (total)

Location

Study Period

Start of Study (Intake)

Diploma of Graphic Design

105823K

CUA50720

$18,200

South Bank, Brisbane

1 Year

22/01/2024
08/07/2024
Coomera, Gold Coast

22/01/2024
Diploma of Music (Performance)*

107861K

CUA50820

$18,400

South Bank, Brisbane
Coomera, Gold Coast

1 Year

22/01/2024
Diploma of Music (Sound Production)*

107861K

CUA50820

$18,400

South Bank, Brisbane

1 Year

22/01/2024
Coomera, Gold Coast

22/01/2024
08/07/2024
Diploma of Photography and Digital Imaging

107531F

CUA50920

$18,400

South Bank, Brisbane

1 Year

22/01/2024
08/07/2024
Nambour, Sunshine Coast

22/01/2024
Diploma of Screen and Media (Animation, Gaming and Visual Effects)

107862J

CUA51020

$17,000

South Bank, Brisbane

1 Year

22/01/2024
08/07/2024
Diploma of Screen and Media (Directing)

107862J

CUA51020

$17,000

Mt Gravatt, Brisbane

1 Year

22/01/2024
08/07/2024
Diploma of Screen and Media (Post-Production)

107862J

CUA51020

$17,000

South Bank, Brisbane
Coomera, Gold Coast

1 Year

22/01/2024
08/07/2024
Diploma of Screen and Media (Production Management)

107862J

CUA51020

$17,000

Mt Gravatt, Brisbane

1 Year

22/01/2024
08/07/2024
Coomera, Gold Coast

22/01/2024
Diploma of Visual Arts

110425D
CUA51120
$19,000
South Bank, Brisbane
Cairns
1 Year
22/01/2024
08/07/2024
Certificate IV in Residential Drafting

106738K

CPP40121

$7,000

South Bank, Brisbane
Nambour, Sunshine Coast
Coomera, Gold Coast

6 Months

22/01/2024
08/07/2024
Certificate IV in Residential Drafting
Diploma of Building Design

106738K
108107C

CPP40121
CPP50921

$7,000
$27,400

South Bank, Brisbane
Nambour, Sunshine Coast
Coomera, Gold Coast

6 Months
1 Year

22/01/2024
08/07/2024
Diploma of Interior Design

111980B
MSF50222

$21,600

South Bank, Brisbane

1 Year 6 Months

22/01/2024
08/07/2024
Coomera, Gold Coast
22/01/2024

*Quota Program
Education and community
Program Name

CRICOS Code

Program Code

Cost (total)

Location

Study Period

Start of Study (Intake)

Certificate III in Early Childhood Education and Care

109391H

CHC30121

$8,400

South Bank, Brisbane
Mooloolaba, Sunshine Coast
Robina, Gold Coast
Southport, Gold Coast
Bundamba, Ipswich
Springfield, South West
Toowoomba

1 Year

22/01/2024
08/07/2024
Certificate III in Early Childhood Education and Care
Diploma of Early Childhood Education and Care

109391H
109290B

CHC30121
CHC50121

$8,400
$10,600

South Bank, Brisbane
Mooloolaba, Sunshine Coast
Robina, Gold Coast
Bundamba, Ipswich
Springfield, South West
Toowoomba

1 Year
1 Year

22/01/2024
08/07/2024
Certificate III in School Based Education Support

109289F

CHC30221

$8,800

Mooloolaba, Sunshine Coast

9 Months

22/01/2024
08/07/2024
Certificate IV in School Based Education Support

109307J

CHC40221

$8,800

Mooloolaba, Sunshine Coast

9 Months

22/01/2024
08/07/2024
Certificate III in Individual Support (Ageing, Home and Community)

091775K

CHC33015

$6,300

South Bank, Brisbane
Bundamba, Ipswich
Toowoomba
6 Months

22/01/2024
08/07/2024
Certificate III in Individual Support (Ageing)

091775K

CHC33015

$6,300

Sunshine Coast Health Institute
Southport, Gold Coast
Cairns
Pimlico, Townsville
6 Months

22/01/2024
08/07/2024
Diploma of Community Services

113763F

CHC52021

$14,000

South Bank, Brisbane

1 Year

22/01/2024
08/07/2024
Diploma of Mental Health
096796J
CHC53315
$14,000
Southport, Gold Coast
1 Year
22/01/2024
08/07/2024
General English

0101409


 

$250 per week*

South Bank, Brisbane
Southport, Gold Coast

Min 2 Weeks

Any Monday

IELTS Preparation

0101408


 

$250 per week*

South Bank, Brisbane
Southport, Gold Coast

Min 2 Weeks

Any Monday

English for Academic Purposes (EAP)

0101406


 

$3,000*

South Bank, Brisbane

12 Weeks

02/01/2024
25/03/2024
24/06/2024
Southport, Gold Coast

25/03/2024
Cambridge Preparation FCE and CAE

0101407


 

$1,500*

South Bank, Brisbane

6 Weeks

30/10/2023
02/01/2024
12/02/2024
25/03/2024
07/05/2024
24/06/2024
*Material fees and one-off application fee will apply 
Environment and animal services
Program Name

CRICOS Code

Program Code

Cost (total)

Location

Study Period

Start of Study (Intake)

Certificate III in Horticulture

092541J

AHC30716

$7,800

Cairns

6 Months

22/01/2024
08/07/2024
Certificate II in Horticulture
Certificate III in Horticulture

092526G
092541J

AHC20416
AHC30716

$6,800
$7,800

Grovely, Brisbane

6 Months
6 Months

22/01/2024
08/07/2024
Certificate II in Horticulture
Certificate III in Horticulture
Diploma of Landscape Design
092526G
092541J
112122C
AHC20416
AHC30716
AHC50621
$6,800
$7,800
$21,500
Grovely, Brisbane
6 Months
6 Months
1 Year
22/01/2024
08/07/2024
Certificate III in Rural Operations

095726J

AHC32816

$11,200

Toowoomba

1 Year

22/01/2024
08/07/2024
Certificate III in Rural Operations
Diploma of Agribusiness Management
095726J
110771H
AHC32816
AHC51422
$11,200
$11,400
Toowoomba
1 Year
1 Year
22/01/2024
08/07/2024
Diploma of Conservation and Ecosystem Management

104852B

AHC51120

$14,500

Nambour, Sunshine Coast

1 Year

22/01/2024
08/07/2024
Certificate III in Animal Care Services*

110617G
ACM30122
$10,800
Ashmore, Gold Coast
1 Year
03/10/2023
22/01/2024
15/04/2024
08/07/2024
Certificate III in Animal Care Services
Certificate IV in Veterinary Nursing*
110617G
0101451
ACM30122
ACM40418
$10,800
$13,200
Ashmore, Gold Coast
1 Year
1 Year
03/10/2023
Certificate III in Animal Care Services
Certificate IV in Veterinary Nursing*

110617G
0101451
ACM30122
ACM40418
$10,800
$14,000
Ashmore, Gold Coast
1 Year
1 Year
22/01/2024
08/07/2024
*Quota program
Health and science
Program Name

CRICOS Code

Program Code

Cost (total)

Location

Study Period

Start of Study (Intake)

Certificate III in Dental Assisting
108108B
HLT35021
$8,800
South Bank, Brisbane
9 Months
22/01/2024
08/07/2024
Diploma of Dental Technology*

099345A

HLT55118

$36,000

South Bank, Brisbane

2 Years

22/01/2024
Bachelor of Dental Prosthetics

089698C

HED004

$92,400

South Bank, Brisbane

3 Years

22/01/2024
Diploma of Anaesthetic Technology and Practice*

111757J
HLT57921
$25,500
South Bank, Brisbane
2 Years
22/01/2024 (Full)
Certificate III in Health Administration
106595J
HLT37315
$5,500
Southport, Gold Coast
6 Months
22/01/2024
08/07/2024
Certificate III in Health Services Assistance
095191B
HLT33115
$6,700
Cairns
Pimlico, Townsville
6 Months
22/01/2024
08/07/2024
Certificate IV in Laboratory Techniques

0101065

MSL40118

$14,800

South Bank, Brisbane

1 Year

22/01/2024
Diploma of Nursing
109308H
HLT54121
$26,400
Southport, Gold Coast
1 Year 6 Months
03/10/2023
Diploma of Nursing*

109308H

HLT54121

$27,900
South Bank, Brisbane
1 Year 6 Months

22/01/2024
15/04/2024
08/07/2024
Southport, Gold Coast
22/01/2024
15/04/2024
08/07/2024
Bundaberg
Hervey Bay
Sunshine Coast Health Institute
Cairns
Pimlico, Townsville
Bundamba, Ipswich
22/01/2024
08/07/2024
Toowoomba
22/01/2024
Diploma of Remedial Massage

095192A

HLT52015

$14,800

Springfield, South West
Toowoomba

1 Year

22/01/2024
08/07/2024
Certificate III in Fitness
109306K
SIS30321
$4,500
South Bank, Brisbane
Mooloolaba, Sunshine Coast
Robina, Gold Coast
6 Months
22/01/2024
08/07/2024
Certificate III in Fitness
Certificate IV in Fitness
109306K
112121D
SIS30321
SIS40221
$4,500
$5,800
South Bank, Brisbane
Mooloolaba, Sunshine Coast
Robina, Gold Coast
6 Months
6 Months
22/01/2024
08/07/2024
Diploma of Sport
107798A
SIS50321
$15,600
South Bank, Brisbane

1 Year
22/01/2024
Robina, Gold Coast
22/01/2024
08/07/2024
Early Childhood Education and Care (ECEC) First Aid and CPR Skill Set
N/A
SSHLT0037
$150
Various

Various

Various
CPR Skill Set
N/A
SSHLT0029
$45
Various

Various

Various
First Aid and CPR Skill Set
N/A
SSHLT0031
Various

Various

Various

Various
*Quota Program
Infrastructure and transport
**This course is delivered by Aviation Australia (RTO 30770 | CRICOS 02425C)
Service industries
Program Name

CRICOS Code

Program Code

Cost (total)

Location

Study Period

Start of Study (Intake)

Certificate III in Hairdressing
095203C
SHB30416
$16,500
Mooloolaba, Sunshine Coast
1 Year 6 Months
22/01/2024
08/07/2024
Diploma of Beauty Therapy
111236A
SHB50121
$24,200
South Bank, Brisbane
Robina, Gold Coast
Cairns
Pimlico, Townsville
Bundamba, Ipswich
Toowoomba
1 Year
22/01/2024
08/07/2024
Certificate III in Hospitality
112775K
SIT30622
$5,600
South Bank, Brisbane
Robina, Gold Coast
Mooloolaba, Sunshine Coast
Toowoomba
6 Months
22/01/2024
08/07/2024
Certificate IV in Kitchen Management
109683G
SIT40521
$24,600
South Bank, Brisbane
Mooloolaba, Sunshine Coast
Cairns
Pimlico, Townsville
Bundamba, Ipswich
Toowoomba
1 Year 6 Months
22/01/2024
08/07/2024
Robina, Gold Coast
03/10/2023
22/01/2024
15/04/2024
08/07/2024
Whitsundays
22/01/2024
Certificate IV in Kitchen Management
Diploma of Hospitality Management
109683G
112779F
SIT40521
SIT50422
$24,600
$5,000
South Bank, Brisbane
Mooloolaba, Sunshine Coast
Cairns
Pimlico, Townsville
Bundamba, Ipswich
Toowoomba
1 Year 6 Months
6 Months
22/01/2024
08/07/2024
Robina, Gold Coast
03/10/2023
22/01/2024
15/04/2024
08/07/2024
Whitsundays
22/01/2024
Diploma of Hospitality Management
112779F
SIT50422
$17,000
South Bank, Brisbane
Robina, Gold Coast
Cairns
Pimlico, Townsville
Whitsundays
Bundamba, Ipswich
Toowoomba
1 Year
22/01/2024
08/07/2024
Certificate III in Patisserie
109736K
SIT31021
$15,000
South Bank, Brisbane
1 Year
22/01/2024
08/07/2024
Certificate III in Patisserie
Certificate IV in Baking

109736K
107355F
SIT31021
FBP40221
$15,000
$7,500
South Bank, Brisbane
1 Year
6 Months
22/01/2024
08/07/2024
Certificate III in Patisserie
Diploma of Hospitality Management

109736K
112779F
SIT31021
SIT50422
$15,000
$17,000
South Bank, Brisbane
1 Year
1 Year
22/01/2024
08/07/2024
Certificate III in Travel
110835H
SIT30222
$7,900
South Bank, Brisbane
6 Months
22/01/2024
08/07/2024
Diploma of Travel and Tourism Management
112776J
SIT50122
$13,800
South Bank, Brisbane
Cairns
1 Year
22/01/2024
08/07/2024
Diploma of Event Management

112778G
SIT50322
$16,200
South Bank, Brisbane
1 Year
22/01/2024
08/07/2024
Robina, Gold Coast
22/01/2024
Food Safety Supervision
N/A
SITSS00069
$225
Various

Various

Various
Introduction to Barista Skill Set
N/A
SSSIT0001
$310
Various

Various

Various
Responsible Service of Alcohol
N/A
SITSS00071
$165
Various

Various

Various
Trades
Program Name

CRICOS Code

Program Code

Cost (total)

Location

Study Period

Start of Study (Intake)

Certificate III in Heavy Commercial Vehicle Mechanical Technology*
103604D
AUR31120
$22,400
Acacia Ridge, Brisbane
2 Years
05/02/2024
08/07/2024
Ashmore, Gold Coast
22/01/2024 (Full)
08/07/2024
Certificate III in Light Vehicle Mechanical Technology*
103618J
AUR30620
$18,900
Acacia Ridge, Brisbane
1 Year 9 Months

05/02/2024
08/07/2024
Bundaberg
1 Year 3 Months
22/01/2024
08/07/2024
Certificate III in Light Vehicle Mechanical Technology
Certificate IV in Automotive Management

103618J
102971M
AUR30620
AUR40116
$18,900
$6,500
Ashmore, Gold Coast
1 Year 6 Months
6 Months
22/01/2024
08/07/2024
Certificate III in Light Vehicle Mechanical Technology
Certificate IV in Automotive Mechanical Diagnosis

103618J
095395A
AUR30620
AUR40216
$18,900
$6,500
Acacia Ridge, Brisbane
1 Year 9 Months
3 Months
05/02/2024
08/07/2024
Certificate III in Light Vehicle Mechanical Technology
Certificate IV in Automotive Mechanical Overhauling

103618J
103581F
AUR30620
AUR40820
$18,900
$6,500
Bundaberg
1 Year 3 Months
9 Months
22/01/2024
08/07/2024
Certificate III in Cabinet Making*
095202D
MSF31113
$25,200
Acacia Ridge, Brisbane
2 Years
05/02/2024
08/07/2024
Ashmore, Gold Coast

22/01/2024 (Full)
08/07/2024
Certificate III in Cabinet Making - Marine Craft
095202D
MSF31113
$25,200
Coomera Marine
2 Years
22/01/2024
08/07/2024
Certificate III in Carpentry*
104863K
CPC30220
$24,000
Ashmore, Gold Coast
2 Years
03/10/2023
Certificate III in Carpentry*
104863K
CPC30220
$26,000
Acacia Ridge, Brisbane
2 Years
05/02/2024
08/07/2024
Nambour, Sunshine Coast
22/01/2024
08/07/2024
Ashmore, Gold Coast
22/01/2024
15/04/2024
08/07/2024
Associate Degree in Civil Engineering
065567A
HED001
$50,160
South Bank, Brisbane
2 Years
22/01/2024
08/07/2024
Advanced Diploma of Engineering Technology - Electrical

112777H
UEE62122
$29,600
Eagle Farm, Brisbane
2 Years
05/02/2024
Diploma of Electronics and Communications Engineering

103402C
UEE50520
$22,200
Eagle Farm, Brisbane
1 Year 6 Months
05/02/2024
Diploma of Engineering - Technical

095200F
MEM50212
$16,000
Acacia Ridge, Brisbane
1 Year
05/02/2024
08/07/2024
Diploma of Engineering - Technical
Advanced Diploma of Engineering

095200F
095201E
MEM50212
MEM60112
$16,000
$12,000
Acacia Ridge, Brisbane
1 Year
1 Year
05/02/2024
08/07/2024
General Construction Induction Training (GCIT) Skill Set
N/A
SSCPC0029
Various
Various

Various

Various
*Quota program